Articles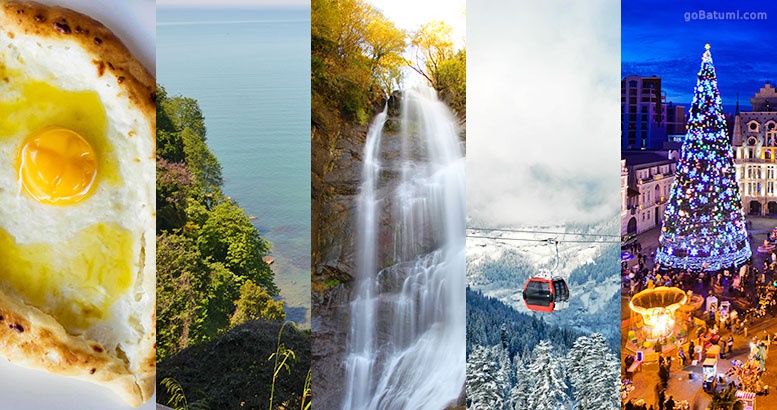 5 Days in Ajara - Greet 2016 with new emotions!
14 December 2015
Unique synthesis of Sea and Mountains, tasty cuisine, exceptional aroma of "Chkhaveri", spectacular concerts with world class stars, warm and memorable nights of Batumi accompanied by live music, eclectic fusion of old and new architecture, Christmas markets, fireworks, numerous surprises, travel to the Past with the help of historical monuments of Ajara, resort Goderdzi and Ski tracks 3 hours from Batumi.
If you tell us what more is required to spend ideal time during the New Year festive season, we'll listen carefully. Until then we'll share our experience how to spend 5 most memorable days in Ajara:

DAY 1
Ajarian Khachapuri is the dish with which your first morning should start! This masterpiece of culinary will not leave you uncaring and if you also drink tea produced in our region, popular worldwide with its specific aroma and characteristics, you will certainly be ready to start your adventure.
First steps should be taken in Old Batumi, which has acquired its European appearance in 19th Century during the period of "Porto Franco". We can continue our route by BatumVelo following the Seaside Boulevard, where we can clearly see the architecture in transition - world class Hotel Brands and small cafés characteristic to Batumi, where you can taste amazing typical Batumi coffee prepared on sand.
Unlike Ajarian Khachapuri you have probably never heard of strangely named Ajarian dishes - Borano, Sinori, Kaisapa, Sarma, Burme, Iakhni. This is your chance to get familiar with these dishes adding culinary discoveries to your adventure.
After having spent your first day positively it is probably interesting to become a part of 25 century old myth on "Golden Fleece". Within 20 minutes drive from Batumi you can visit Gonio Castle

and feel the mystic of Antique Era.
Every evening from December 25 and after concerts with world class stars

are held in Batumi, you can listen to various styles and genres sung by Georgian artists as well. Most importantly you are capable of getting acquainted with Georgian Folk, recognised as Intangible Cultural Heritage by UNESCO.

DAY 2
After morning breakfast visiting Botanical Gardens

can be fun and energetic start of the day. Plants, small gardens and spectacular views of 9 Climate Zones will positively affect your day right from the morning.
For those loving fish, there are numerous restaurants and bars offering sea food dishes, as well as Fish Market offering you wide choice.
If you have not seen amazing dolphins show yet, you have plenty of time till night to visit the dolphinarium

and get unforgettable emotions.
In the centre of Batumi before the Christmas market and concerts start, you can take a cableway "Argo"

to "Batumgora" and enjoy a stunning view of the city!

DAY 3
As we mentioned, Ajara is extraordinary with its unique synthesis of Sea and Mountains. Within 40 minutes you can visit Makhuntseti Waterfall

and arch bridges

from XII-XIV centuries, which are colloquially called Bridges of King Tamara.
Wineries

scattered throughout the municipalities of Keda and Shuakhevi

will diversify your travel, letting you taste Ajarian Dishes together with unique Wines. You also have a chance to participate in exceptional Georgian Supra - a national pride object - accompanied with polyphonic songs and led by Tamada with diverse toasts.
Once returned to the City apart from concerts on the Square of Europe, you are offered with numerous interesting programmes from restaurants and cafes to spend an enjoyable evening.

DAY 4
New Year is primarily associated with the snow, Ajara is not disappointing this way either and in 109 kilometres from Batumi, resort "Goderdzi"

awaits for you with ski tracks, cottages and cableways!

DAY 5
After 4 days of active and diverse travel, fifth day can be dedicated to relaxation. There are numerous spa centres

, boutiques of Georgian Designers, dancing fountains

, famous bookshops, museums

and squares in Batumi

, letting you spend meaningful and positive day before evening shows.

Apart from above mentioned activities, there are pleasant surprises and events for you. Don't miss Winter Stories in Ajara from December 25!

Greet 2016 with new emotions!
► Celebrate New Year Days in Batumi!

► New Year Events in the Hotels and Restaurants

► New Ski Resort Goderdzi is Waiting for You!

► List of Travel Agencies in Batumi


Employees of our information centers, within 24 hours will provide you with free consultations and details of Christmas events.
Information about the visa regime: goBatumi.com/visa-regime
List of travel agencies: goBatumi.com/travel-agencies