Articles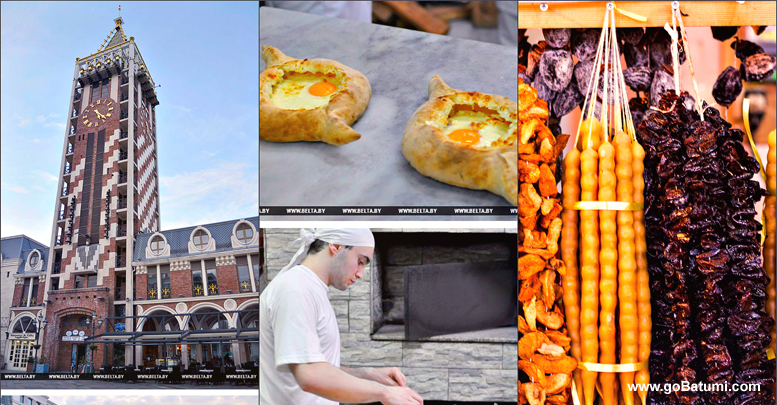 Newspaper Report: Weekend in Batumi: Real Paradise for tourists
16 February 2016
After happening in Georgia even once it's not easy not to have desire to happen there for the second times. This is amazingly beautiful and hospitable country - real paradise for tourists. Georgia offers many kinds of tourism: starting from traditional family holidays, cognitive tours at sea beach in summer season in regions, skiing in mountains and getting acquainted with traditional rural life-style. It does not matter how long you stay in this country three days or three weeks you will definitely have bright impressions about it for a long time. The same had happened to our group of Journalists from Belarus who were visiting one of the most beautiful regions of Georgia – Autonomous Republic of Ajara.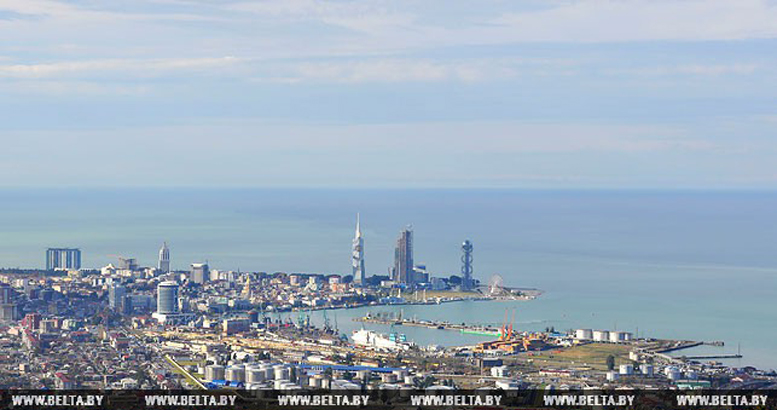 The mentioned region with its mild climate is very comfortable and attractive at any time of year. The most territory of Ajara is highland. There is green all around the year and in winter temperature comes to zero. Batumi is a famous resort at The Black Sea which is located at subtropical zone.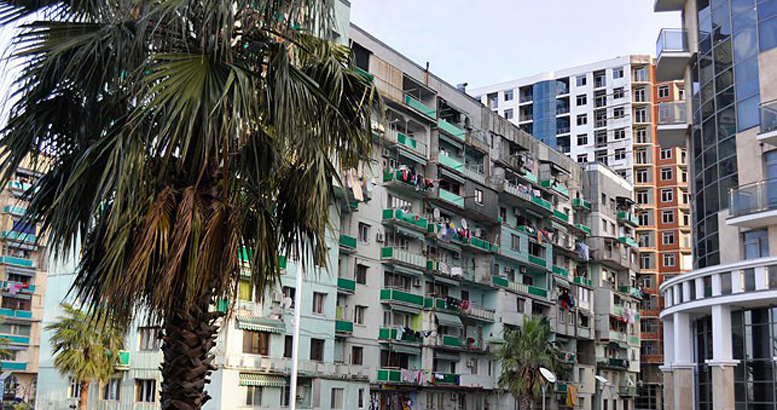 Here in winter months, one warm sweater is enough. According to locals the lowest temperature here is - 1 C 0 as for the snow it causes great joy in children and adults as well. Rain is frequent here. It is not coincidence that symbol of basic resort of Ajara is dolphin with an umbrella but at present dolphin is covered with palm leaf. Dolphin and other symbols of Batumi for example Boy with a pipe make the city beautiful.
Walk in boulevard
Even the rain cannot spoil impressions about modern Batumi. Once a small soviet resort, today has two faces: old city with narrow streets and architecture from 19-th century and new with new big boulevard and multi-floor buildings. As for new buildings pseudo coliseum, Alphabet tower – 130 m and inverted house "Kiramala" (in which even New Year's tree has the crown downside) creative building of McDonalds are worth mentioning about which there are controversial ideas. Some people like this architecture but some consider it kitsch.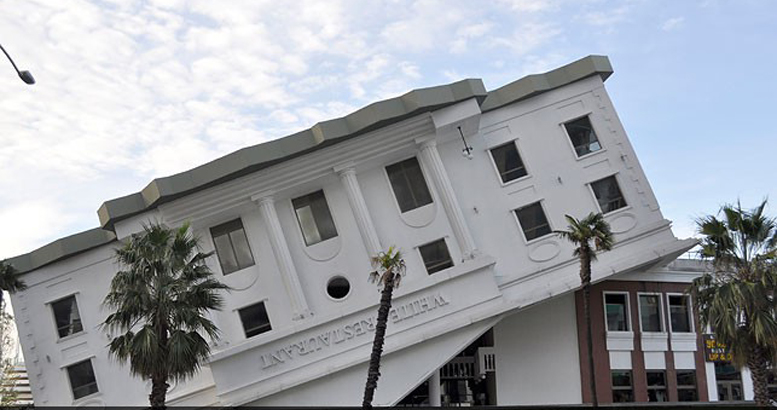 Batumi Old Boulevard starts at the part of city where unique flavour of old Georgia is vividly felt and it gently blends into new boulevard – this is the way how locals have divided the city into two parts. Not only visitors and guests are walking at seaside but locals as well enjoying waves and palms which are shining more at night. In Autumn couples are sitting at the sand near the sea.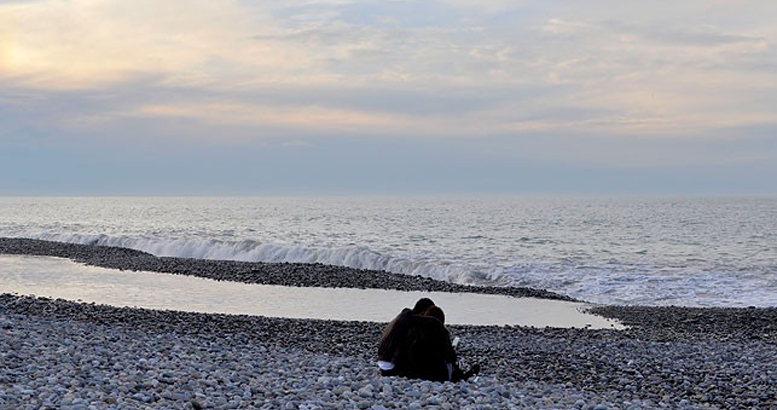 In boulevard you will meet various sculptures one of which is Ali and Nino

. Seven meters figures of man and woman are moving and this composition is called dancing couple. Nearby there is Tchatcha fountain from which instead of water is coming Georgian alcoholic drink at certain times.
Additional showplace for boulevard is Ferris wheel which will excite you with stunning views. You may enjoy splendid views from cable way of Batumi as well – the length of which is 2600 m and height 260 m from sea level. As for us we received unforgettable impressions from Batumi Panorama, combination of sea and mountain views from saint trinity church which is located at 240 m from sea level. The trinity church is newly opened after restoration works.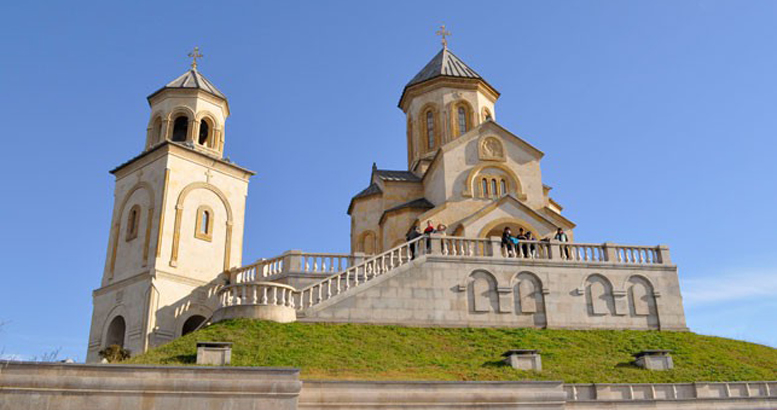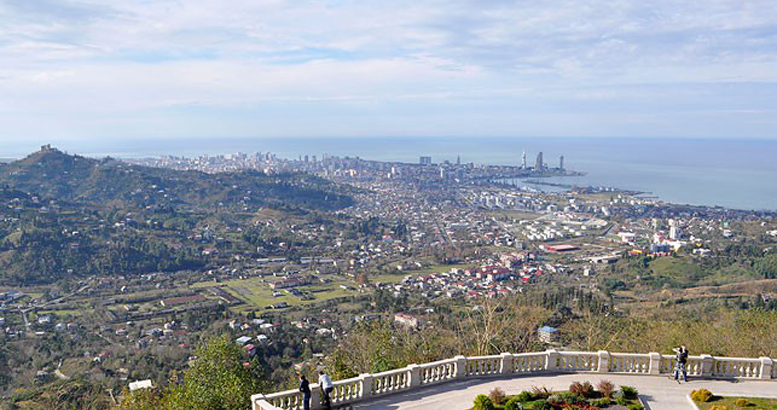 While walking at old parts of Batumi it's impossible not to see Piazza square. The square appeared in 2009 at the place of old historical part of the city. There are controversial opinions about its style but anyway very beautiful. One of the peculiarities of Piazza is bells which are ringing per 3 hours. This musical clock at piazza tower is singing anthem of Georgia.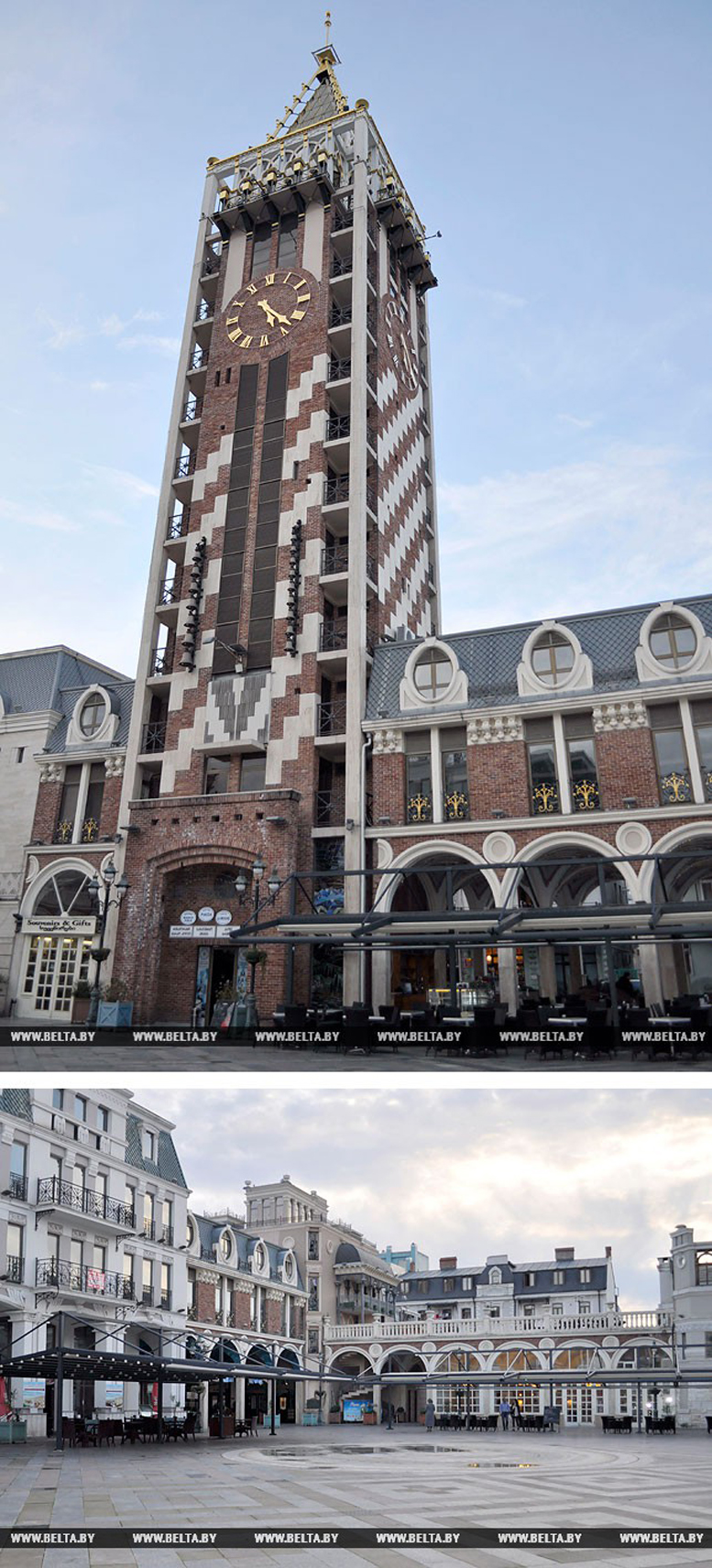 One more interesting places in Batumi it is Europe Square

which is heart of Batumi. The title to the square was called in respect of joining the Assembly of European Regions. Since 2007 Medea Statute is placed in the square - this is the Medea who helped Argonauts to discover Golden Fleece and by the way Fleece which Medea is carrying in her hand is golden.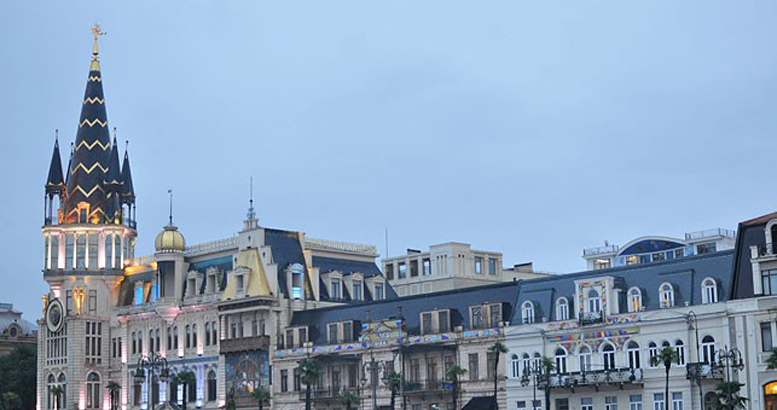 Not so far from Europe Square there are singing fountains. This amazing show and spending here even one evening is a great pleasure.
For more positive emotions you may visit Batumi Dolphinarium

as well which is the only in post-soviet Union where the shows are held under open sky.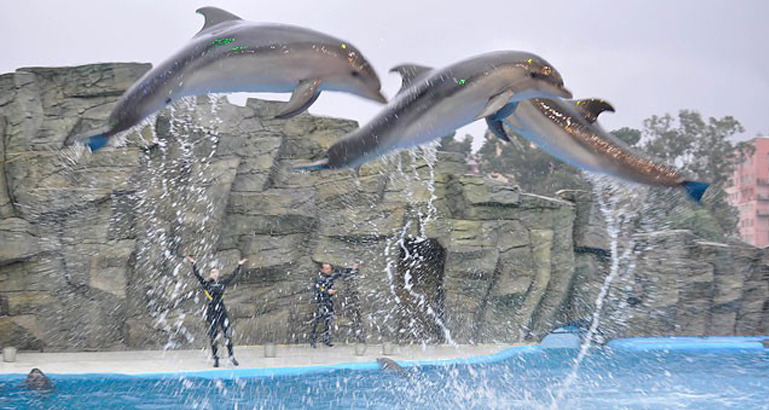 Batumi "Business Card"
Batumi - this little city you may get around in an hour - Batumi is not considered as the place only for family holidays for a long time now. The city started active constructions and changes since 2000 s. According to the plan it should be Las Vegas N 2. Here investors having big capital assets were given favourable conditions while constructing hotels and casinos. At present there are dozens of slot clubs in Batumi which are visited by guests from Turkey, Azerbaijan, Germany, USA, Israel, etc.
The number of chain hotels is constantly increasing. Sheraton, Hilton, Radisson, Holiday, there are the Chain hotels which are operating in Ajara at present and in nearest future Kempinsky and Babilon Tower will be opened, besides dozens of hotels are planned to be constructed. Prices here are quite expensive. The price of rooms at moderate hotels is 50-80$. Besides, there are possibilities to find accommodation at private sector for those with smaller budget. Price for one bed in 24 hours equals to 8-10$ and of course conditions are appropriate but Georgian hospitality, delicious and cheap food can compensate the rest.
Batumi population equals to 170 thousand persons. Here is civil transport but locals prefer private automobiles. There are many cars in the city which is vivid at traffic hours.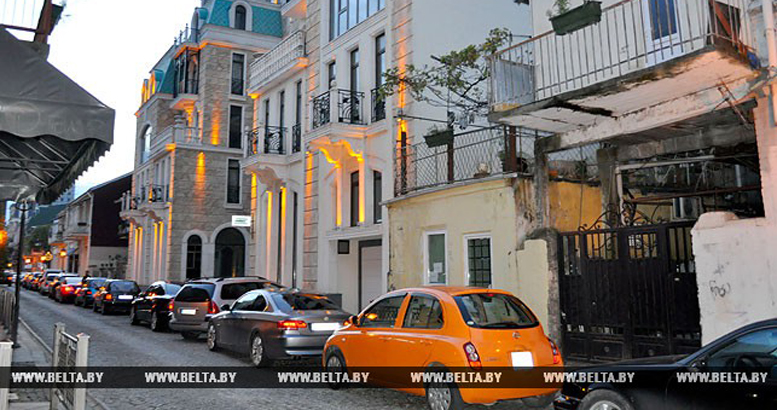 Rural flavour
Georgians are very good drivers and in this you will be convinced if you go with them in highland villages at excursion. While being at villages, hospitable housewives will tell you thoroughly about their life-style, national dishes and wine made from their vines.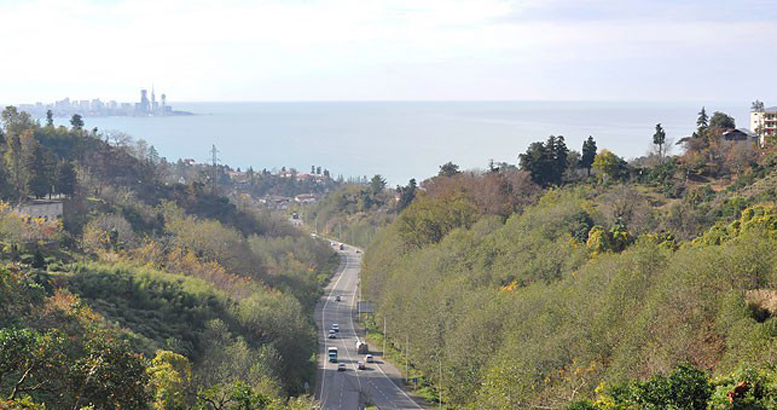 Host from village "1 May" Levan Beridze met with journalists at his house, he thoroughly told us about his decision to engage with agro-tourism and how interesting this business is for him. The table was almost broken with Georgian dishes; the host was offering more and more delicious wine to taste. Our campaign was pleased with the performance of local folk ensemble. Polyphonic music is widely spread in Georgia. The special technique of singing of Georgians is in the list of non-material property of UNESCO.
Nor Georgian dances make the less impressions. Repeating them without training is practically impossible.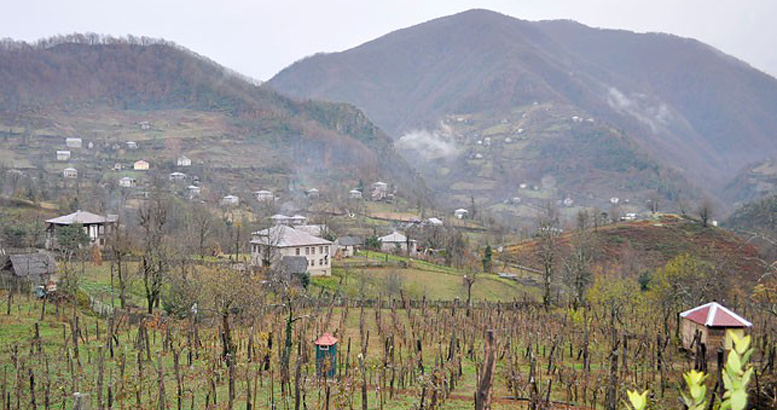 The Village "1 May" is at 50 minutes away from Batumi which is along with Gonio Apsaros Fortress where there is the most beautiful waterfall Makhuntseti. Nearby is King Tamar bridge. The waterfall at 30 meters is absolutely gorgeous.
In addition we had the possibility to sea stone bridge which is nine hundred years old.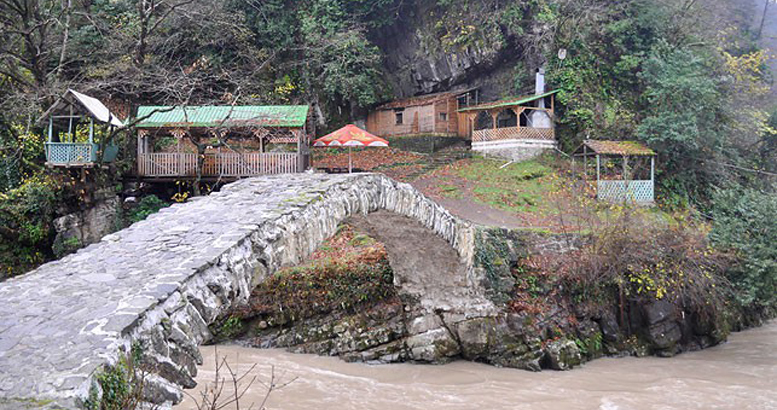 The impressions after seeing this place were strengthened by meeting with olds who were offering tangerine, pomegranate and chestnut honeys, hosting us with persimmon and a glass of family wine.
Georgian Sufra Traditions
Wine and Sufra - this are the separate aspect of Georgian and Ajarian culture. About 500 species of vases are produced in the country from which various kinds of wines are produced among which is Chkhaveri. But this wine with the mark "Porto Franco" is produced with limited quantities, it is neither sold at stories and nor exported. You may taste it only at Wine house nearby Batumi.
Here is small wine factory where you can taste best wines of Ajara and get acquainted with new technologies of producing wine. By the way this technology is among non-material cultural property of UNESCO.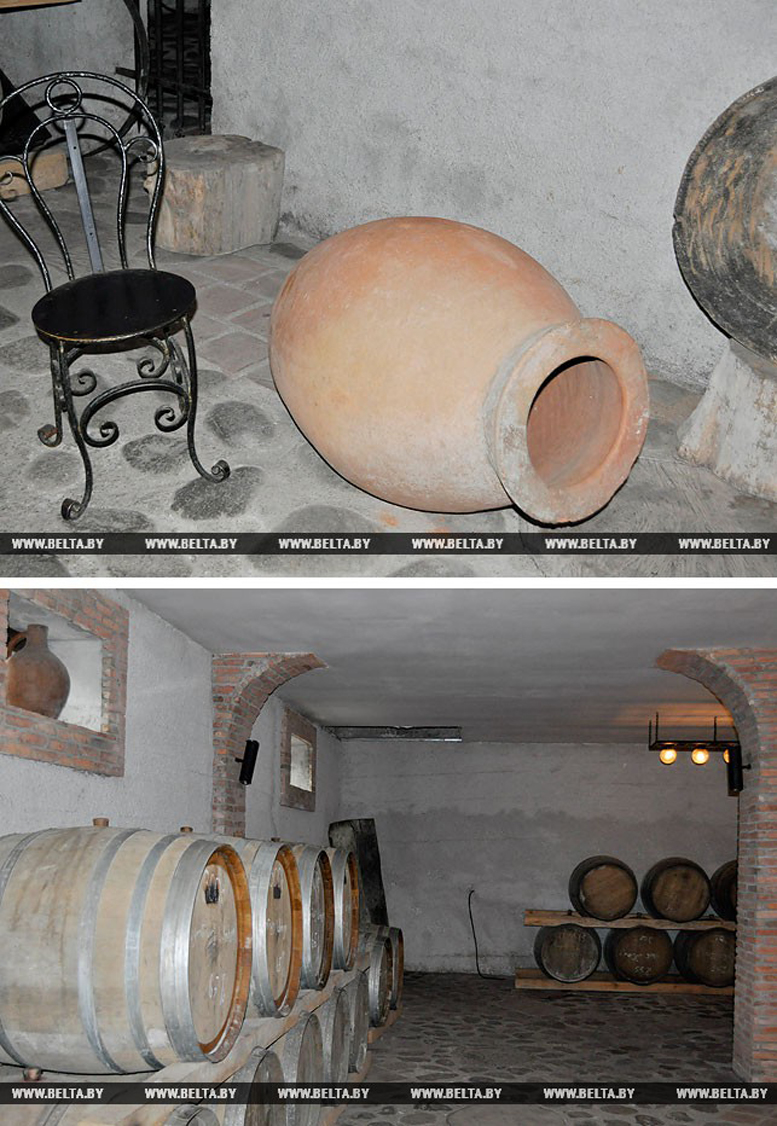 If you have been at Georgian Sufra even once you will remember it with positive emotions for 4-5 hours. There are no Sufra in Batumi without Tamada which is specially selected person and his role in managing Sufra is quiet important. These are the traditions of the city for centuries. The first toast is for peace. The researchers have identified about 300 kinds of toasts which had ever been made at Georgian Sufras.
As for New Year it is commonly met at home, locals are decorating Christmas tree, preparing national dishes and salad Olivie.
Ajarian cuisine deserves further admiration; it is specific and full of calories. If you still compare Khinkali with Pelmen it means that you have not tasted real Georgian Khinkali yet. As for Ajarian Khatchapuri nothing can compete with it.
Tourism all around year
In Ajara where everyone bets at tourism business various directions of tourism are being developed at present. Here are several skiing resorts, one more skiing resort was opened now - Goderdzi.

The resort will be operating from December to May so if you decide to visit Ajara for the end of spring you may combine sea and skiing tourism and enjoy both of them.
For the end of November - beginning of December trees are full of fruits, you may harvest 100 - 200 kg of fruits from one tree. Those who are visiting Ajara and have such desire may harvest tangerine and persimmon at their wish.
Ajarians hope that celebrating New Year and Christmas in Ajara will become more popular for the tourists from various countries. Tourists may take great pleasure even while visiting Batumi for several days.
One of sights of Batumi is Botanical Garden

which is 100 years old and the area of which equals to 108 ha. The basic tourist route for 3 km-s you may walk down. There are 5 thousand of species at Botanical garden and there is a square for tourists at botanical Garden where you may have picnic or swim in the sea.
And for those who likes active tourism the most suitable place is Green Lake at 2 133 m-s.
In new tourism season cycling fans will find what to do. At present bicycle routes are created in mountains and the first trip is planned in May. Nowadays flexible municipal project "Velo-Batumi" is operating in Batumi in the limits of which you may take bicycle at any place in the city and after completing cycling you may leave it at any official park stations.
In Ajara they consider their task to increase number of tourists for 100-150 thousand annually. At present Autonomous Republic of Ajara is promoted in nine target countries including in Belarus and from the very next year Russia will be added to this list. Ajara is visited by 500 thousand of tourists annually from various countries including Turkey, Poland, Lithuania, Armenia, etc. In the mentioned number Belarusian tourists are not much. In 2014 - just 4,5 thousand and in 2015 up to 6 thousand. The small number of Belarusian tourists is caused by expensive ticket prices and the only air-company offering direct flights "Belavia". There were carried negotiations between Belarusian and Georgian sides about ticket prices (Ticket price - about 300$) but the results of them are not known yet.
Flight from Minsk to Batumi does not take long only three hours. Though night flight is not comfortable but as soon as you arrive the place where there is sunny and warm for more than 300 days per year you will immediately forget about other inconveniences.

Source: www.belta.by
Author: Zhanna Kotliarova
Photo Credits: Ekaterina Kozlova