News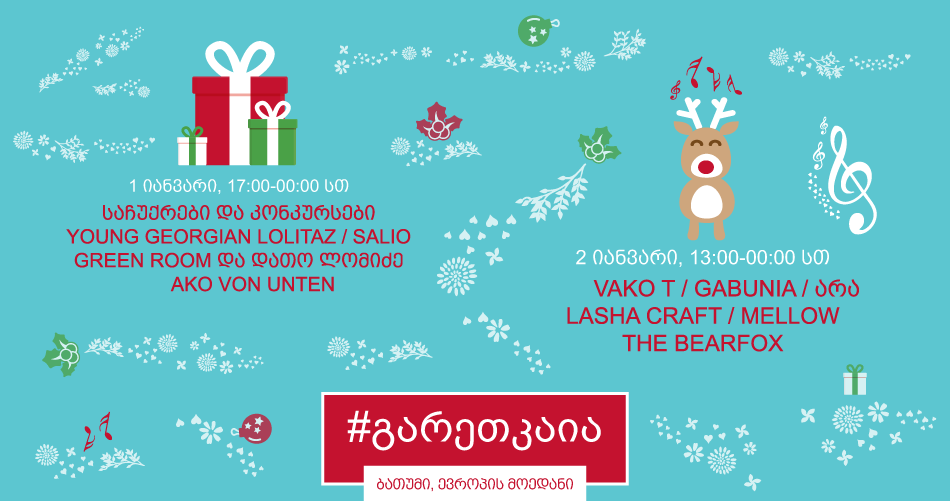 New Year program of January 1-2
16 December 2016
Rock, funk, pop and electronic music lovers will spend unforgettable 1st and 2nd of January in Batumi. Great music, glintwine, New Year yard and grandly adorned square will turn into favorite place for music lovers during two days. Popular Georgian bands SALIO, Green Room and Dato Lomidze, Young Georgian Lolitaz, Mellow, Ara and the Bearfox will add a welcomed cheer to celebration. Before starting the concert an electronic music will deliver an incredible presentation of the holiday. Specially adorned "New Year yard" will be offering glintwine, different beverages and food to guests.
New Year program will be opened by DJ Ako Von Unten at 17:00 on January 1, followed by Georgian indie-rock band Young Georgian Lolitaz. The culmination of the day will be popular Georgian band SALIO with its one-hour program. Green Room and Dato Lomidze will close the concert of January 1. DJ Vako T, Gabunia and Lasha Craft will be represented at the concert on January 2. Concert will be continued by the bands Ara, Mellow and the Bearfox from 7 p.m.
"Despite winter frost Europe Square and New Year Yard will gather great music lovers during January 1st and 2nd. It's a real fun (#გარეთკაია) to be in a circle of friends and share pleasant environment, music, glintwine and warmth with them. #გარეთკაია is the hashtag of our PR campaign calling for everyone to celebrate New Year outside" –said the Chairman of the Department of Tourism, Mamuka Berdzenishvili.
New Year events at the Europe Square of January 1st and 2nd will be organized by Department of Tourism of Ajara.
January 1
17:00 – 20:00 - DJ Ako Von Unten
20:00 – Young Georgian Lolitaz
21:00 – Salio
22:00 – Green Room and Dato Lomidze
January 2
13:00 – 15:00 – DJ Vako T
15:00 – 17:00 – Gabunia
17:00 – 19:00 – Ara
20:00 – Mellow
21:00 – The Bearfox