News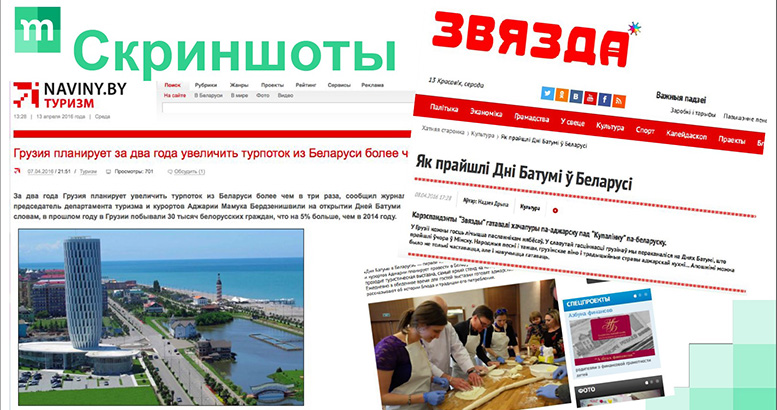 "Ajara Day" organized in Minsk evoked Great resonance
27 April 2016
"Ajara Day" organized in Minsk by the Department of Tourism and Resorts of Ajara A.R evoked Great resonance in Belarusian media. The general views of articles, blogs and TV-radio reports in radios, televisions, printed and online media outlets achieved 7 685 000 views. About 30 big articles and TV-radio reports were dedicated to folk-lore, cuisine, wine and tourism potential of the region represented at Ajara day by the Department.
Report (Video) / Article 1 / Article 2
Ajara days evoked resonance even in local television. The first deputy chairman of Tourism Department – Sopiko Lazishvili and folk-lore ensemble "Atdzali" were invited in morning show "Good Morning Belarus" of rating TV Channel "Belarus - 1" in which they talked about Ajara day, exhibition, PR campaigns and tourism potential of the region. Khelvachauri team performed Belarus folk song "Koupalenka" and Mravalzhamieri in live.
Ajara Tourism Department hosted Ajara Days for the first time this year. In the evening which was attended by about 100 representatives of media, travel agencies and diplomatic corps, rich immaterial cultural inheritance of Georgia, cuisine, wine and tourism potential of Ajara were promoted. Belarusian media wrote about Ajara and the evening dedicated to the region during several weeks.
See Articles: www.dt.by / www.telegraf.by / www.mamuli.by / www.naviny.by