News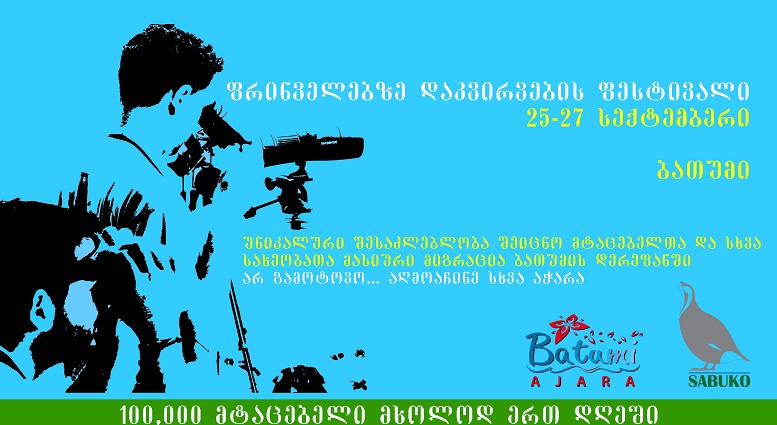 Ajara to be a host of Birdwatching International Festival
15 September 2016
Department of Tourism of Ajara will host Birdwatching International Festival on September 25-27 in Ajara. Festival which is held in the region since 2011, is promoting development of Birdwatching tourism in Ajara, local economic prosperity and conservation of migratory birds of prey.
Outgoing lectures and presentations are to be held by invited and Georgian specialists within the frames of the festival which will be attended by acting travel agencies, students and pupils. It's also planned to have cognitive excursions at the territories important for birdwatching, such as National Park of Kolkheti, Chorokhi Delta, village Chaisubani, village Sakhalvasho, Batumi Seaside Park and port. Results of the festival and bird migration of 2016 will be summed up on September 27, at the observation deck of village Shuamta.
"Birdwatching tourism as one of the popular directions of ecotourism has the greatest potential within the region. Ajara is deemed to be as one of the largest corridors for bird migration and is included in world's top 4, that's why festival is attracting more and more tourists and scientists interested in this field from around the world. We have arranged the observation deck and shelter infrastructure for the mentioned festival in the village Shuamta. We also support development of guest houses located in the important villages for birdwatching. Type of tourism which is deepening roots in Georgia, is popularized by us at domestic and foreign markets by providing brochures and promotional videos at the thematic websites and social media" – told to journalists the Head of the Department of Tourism, Mamuka Berdzenishvili.
The festival has been held since 2012 with support of the Department of Tourism in the region. This year it will be organized by Wildlife Conservation Society (SABUKO) the head of which was granted by world prestigious Whitley award for his contribution in the field of nature conservation for protecting migratory birds.
Festival will be opened on September 25 and last till September 27.