News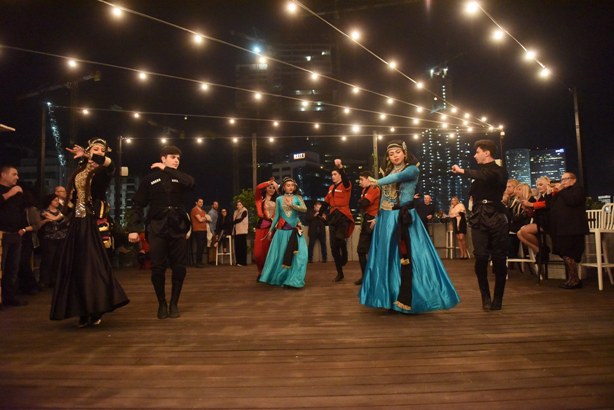 "Ajara Day" was successfully conducted in Israeli capital
6 April 2016
Ajara Tourism Department has hosted "Ajara Days" in Israel Capital Tel Aviv. Georgian traditional dishes and folk-lore was promoted at official evening which was attended by about 100 representatives from local leading media outlets, travel agencies and diplomatic corps. Paata Kalandadze- Ambassador Plenipotentiary and Extraordinary of Georgia in Israel and Mamuka Berdzenishvili – Chairman of Tourism and Resorts of Ajara has officially addressed with a speech to the exhibition guests who had highlighted questions of friendship between Georgia and Israel and increasing number of Israeli tourists and the air companies committing flights between these two countries.
"Our goal is to promote tourist products and especially immaterial culture and cuisine of the region through "Ajara Days" planned in Minsk, Astana and Warsaw with Tel Aviv. Our event in Tel Aviv gave possibility to guests get acquainted with our folk-lore, taste locally our traditional dishes and participate in culinary master classes. I would like to note that local media outlets and the society attending the event expressed great interest towards our region, which in totally will be reflected on the number of Israeli tourists entering our region" declared Mamuka Berdzenishvili – Chairman of Department of Tourism and Resorts of Ajara A.R.
Folklore ensemble "Shuakhevi" at Shuakhevi Culture Center was in Tel Aviv at Ajara Days and introduced Georgian folk song to the exhibition guests.
Ajara day in Tel Aviv was organized by Department of Tourism and Resorts of Ajara and by the support of Ministry of Education of Ajara A.R., Ministry of Culture and Sports of Ajara A.R. and Embassy of Georgia in Israel.
Department of Tourism and Resorts of Ajara A.R. besides Israel will organize "Ajara Days", in Minsk, Warsaw and Astana which will further contribute to increase awareness about the region in target countries.