News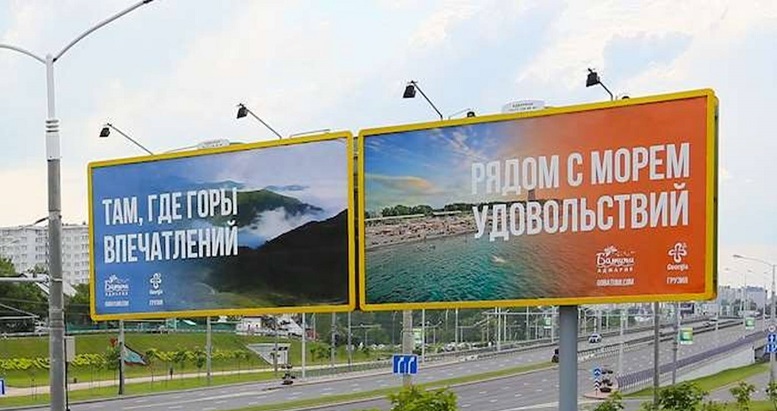 Successful PR campaigns of Department in Belorussia
16 September 2016
The number of tourists and visitors from Belorussia in the region is especially increasing during recent years. According to the data of border crossing. Number of Belorussian visitors in Ajara is increased by 19, 73% during the last 8 months. Belorussia is staying as one of the most important tourism markets for Ajara, Department of Tourism of Ajara is promoting tourism opportunities of the region since March there.
Promotions were begun by outdoor advertisements from Minks and Brest. 61 billboards during 2 months were attracting attentions of Belorussian at the central streets and squares of the mentioned cities. Except the standard billboards, a special billboard was placed at the most crowded places of Minsk and the information about current weather forecast of Batumi was being updated there. The common access to the billboards during 2 months reached 1 500 000 000.
As to the PR activities, the most distinguished from others held in Belorussia, was "Ajarian Day" which was attended by popular media means and travel agencies of Minsk. Folklore, cuisine and master classes represented at event admired guests which was later reflected in the materials published by journalists. Common access to the articles, blogs and TV-radio programs devoted to tourism potential of Ajara and PR campaigns of the Department in Minsk, reached 7 685 000.
Department represented region at the tourism exhibition "Otdikh", too. Georgian folklore, cuisine and wine were exhibited at the individual stand with Georgian motives together with promotion materials. Interactive map of Ajara was created within the frames of PR campaigns which will be published at the website of Department: gobatumi.ge. Map is trilingual and restaurants of Ajara, Geirgian dishes and receipts, also tourism sights and routes will be placed there.
The photo contests have been held in online space of Belorussia for increasing the recognition of tourism products of the region in Belorussia which was involved by hundreds of people. Department also organized a press tour for promoting gastronomic tourism of the region, the representatives of popular media means were visiting Ajara within the press tour. More than 12 TV programs and article have been devoted to Georgian cuisine within press tour. Access to articles ad programs exceeded 4 million.
Articles and blogs about Ajara are available at the following link: ARTICLES.