News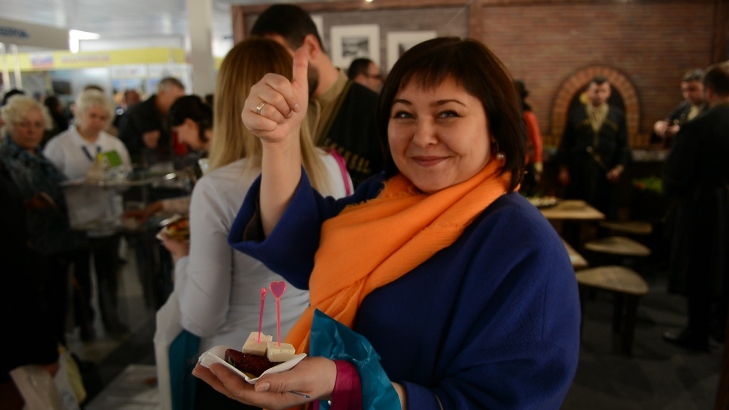 Ajara Stand in the spotlight of Belarus Tourism Exhibition
6 April 2016
Ajara stand was presented with a different stand at Belarus International Exhibition "Leisure 2016" and provoked great admiration among exhibition guests. At exhibition stand designed in Georgian traditional style visitors had the possibility to enjoy Georgian, folk songs, taste traditional dishes, and participate in culinary master class of making Ajarian Khatchapuri. During exhibition, Georgian folk song performed by Khelvachauri Folk-ore ensemble "Atdzali" attracted great attention of guests.
"This year Ajara Stand attracts special attention at Minsk Tourism Exhibition which is the result of introducing our immaterial culture- folk-lore, cuisine and wine. Our immaterial culture is the thing what our visitors like most of all and we plan to promote cultural potential of the region in target countries with likewise exhibitions and organizing Ajara Days" – stated Mamuka Berdzenishvili - Chairman of Department of Tourism and Resorts of Ajara A.R.
Department will introduce Ajara tourist products at Minsk International Exhibition on 6-9 April. Travel agencies "Ajara Tour" and "Capital Georgia Travel" together with the Department provide promotion of the region at the exhibition.
Belarus is one of the most important tourism markets for Department of Tourism and Resorts of Ajara where PR and marketing campaigns have been carrying for four years now for the purpose of attracting tourists. Department of Tourism and Resorts of Ajara has already started PR activities in Belarus for 2016 tourism season which includes outdoor and online advertisements as well as organizing press and info tours in Minsk, conducting "Ajara Days" in Minsk and creating special TV programs about Ajara.