News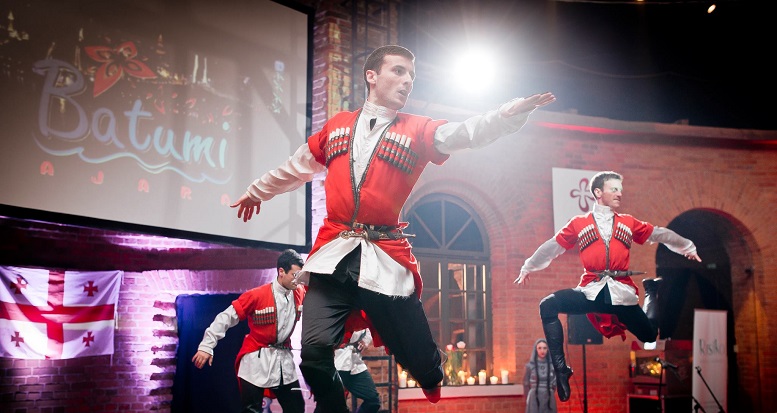 After Warsaw "Ajara Day" will be organized in Astana and Vilnius
25 April 2016
After Tel Aviv and Minsk Ajara Tourism Department hosted "Ajara Day" in Warsaw. Informal acceptance, at which presentation about Georgian folklore, cuisine and wine was made, was attended by about 100 representatives from polish media outlets, travel agencies and diplomatic corps. During the event guests had the possibility to degust Georgian dishes and to participate in master classes of preparing Ajarian Khatchapuri and Khinkali as well as to get acquainted with Georgian folk dances and songs which were performed by Keda Folk-lore team "Elesa" being the laureate of Tsinanadali Premium and Ensemble "Daisi". Via photo-presentation represented at the evening the guests received information about Ajara sights and local cultural monuments.
"We are organizing "Ajara Days" in target countries for the first time this year. Our goal is to show to the target auditory what they will meet in Ajara, what kind of cuisine, folk-lore and wine we have. We have already hosted three evenings in Tel-Aviv, Minsk and Warsaw and it can be said that Ajara days caused great interest among journalists and tour operators. A number of materials was printed and published about Ajara and its tourism potential in online, printed media and TV spaces. Travel agencies are actively starting to elaborate travel packages and getting ready for tourist season" – declared Mamuka Berdzenishvili Chairman of Department of Tourism and Resorts of Ajara A.R.
After Warsaw ", Department of Tourism and resorts of Ajara will organize Ajara Days" this day in Astana and on 29 of May in Vilnius which will promote enhancement of awareness about the region in target countries. "Ajara Days" is organized by the support of Department of Tourism and Resorts of Ajara A.R. and The Ministry of Education, Culture and Sports.