News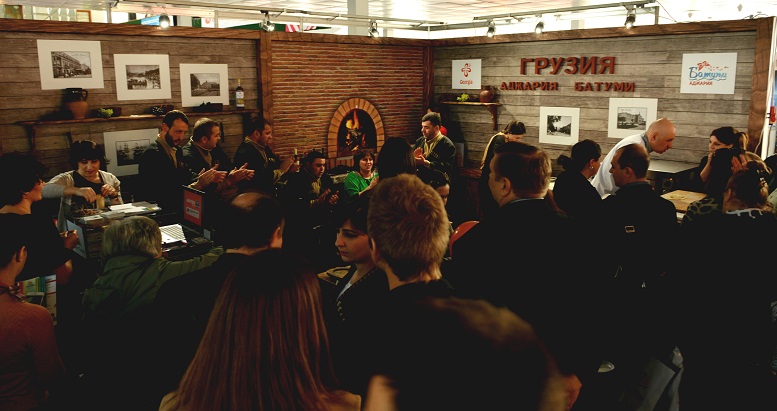 Ajara stand received special award at Minsk International Exhibition
11 April 2016
Ajara stand received special award at Belarus International Exhibition Leisure 2016 for individual style and high presentation quality. It is worth mentioning that the stand of region was distinguished with high number of guests. Besides Ambassador of Georgia in Belarus Davit Kotaria visited Ajara stand at exhibition who stated that Ajara stand was especially interesting and attractive for tourists.
This year for the first time the stand guests had the possibility to enjoy Georgian folk songs and taste traditional dishes as well as to participate in culinary master classes of making Ajarian Khatchapuri. During the exhibition special attention was paid to Georgian folk songs performed by Khelvachauri Folk Ensemble "Atdzali".
"It is pleasant that we had non-stop flow of visitors at our stand. They were impressed with our folk-lore and cuisine. the special award we received from exhibition organizers approves that we have perfectly represented our region at exhibition with our immaterial culture and tourism potential. I am deeply convinced that the majority of our stand guests will stop their choice at Ajara in order to receive those positive emotions in our country which we have gifted them at the exhibition" stated Mamuka Berdzenishvili – Chairman of Ajara Tourism Department.
Ajara Tourism Department visit for the purpose of tourism potential was conducted successfully in Minsk. Representatives of Department were in Minsk during 5-9 days. Travel agencies "Ajara Tour" "Capital Georgia Travel" and "Minimo Travel" were promoting our region at the exhibition.