News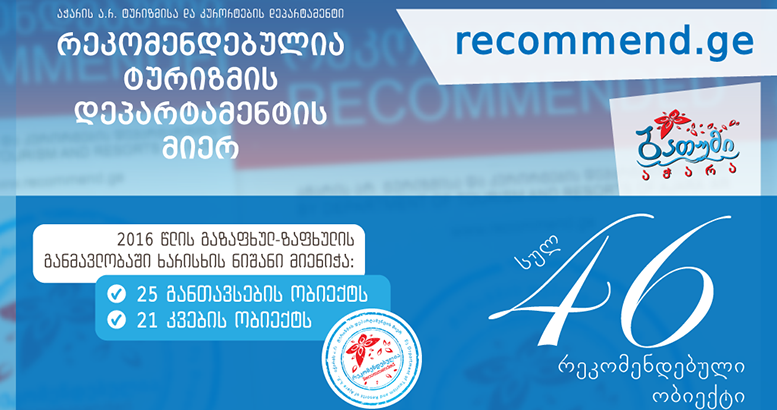 Number of restaurants and hotels with quality mark is increasing
4 November 2016
Granting the mark "Recommended by the Department of Tourism" is in progress in Ajara. The third stage of the project was began on November 1. Sanitary cleaning, food safety, security and technical standards will be checked in 26 accommodation and catering facilities. Facilities meeting the international criteria will be granted a quality mark "Recommended by the Department of Tourism" in December.
Project "Recommended by the Department of Tourism" is an offer for accommodation and catering facilities of the region to improve the service quality, maintain and implement specific criteria for establishment of European standards. Involvement in the project is voluntary and free of charge.
At the present stage from 106 registered facilities only 48 restaurants and hotels managed to get the quality mark. Their number will increase till the end of the year. Information about accommodation and catering facilities with quality mark is available on the webpage specially created for the project: recommend.ge.
"It's important for us to involve as many accommodation and catering facilities in the project as possible. Criteria for which the mark is granted to the facilities should be maintained in all restaurants and hotels of Ajara which will be reflected on service quality and meet the international standards. Department is going to continue project in the next year, we are anticipating the growth of interest towards the project" – said the Head of the Service Development Agency of the Department of Tourism of Ajara, Tamar Kaikatsishvili.