News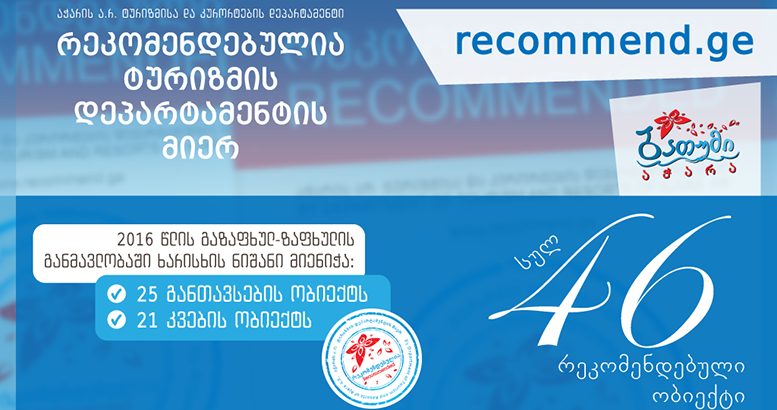 Increased number of tourism facilities with quality mark
26 August 2016
Number of tourism facilities with quality marks is increased in Ajara. The quality mark "Recommended by the Department of Tourism" was granted to 12 tourism facilities but 29 facilities were trying to improve technical and safety standards. Quality mark in the mentioned facilities mean the minimal guarantee of security, safety, hygiene and service standards.
"Recommended by the Department of Tourism" is an innovational project. It began in spring and quality marks are being granted to 18 facilities at the first stage. Today their number has reached 46.
The monitoring group of the Department of Tourism is checking the compliance to the minimal standards and international criteria of security, sanitary, hygiene and service. Criteria to be met by hotels and restaurants are based on the principles of globally recognized HotRec, Hot Star union 21.
Information regarding recommended facilities are available at the web-page of the Department Recommend.ge which help visitors to choose tourism service and facility of desired mark.
Project "Recommended by the Department of Tourism" continues and anyone can get involved in it. Those who wish to participate in the mentioned project should fill in online application form or submit already filled in applications to the Department of Tourism.