News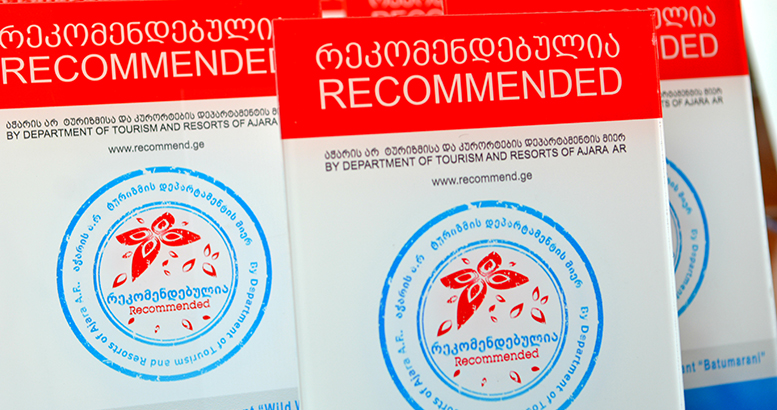 Applicants for quality mark ''Recommended'' already appeared
4 February 2016
Applicants for quality mark "Recommended by Tourism Department" already appeared. Five facilities wishing to participate in the project have filled application forms at special web-site of Department of Tourism and Resorts of Ajara recommend.ge. After online registration at the web-site tourism facilities and guides express their consent to pass all necessary procedures to acquire quality mark.
First Stage of Monitoring (01.03 – 01.04)
After reviewing applications project member food and accommodation facilities will pass special technical examination which is based on 21 principles HotRec, Hot Star union approved in the world. One of the basic parts of criterion foresees technical and safety standards at tourist facilities. Monitoring will be organized by Service Development Department of Tourism Department. Recommendations will be issued about revealed faults for which tourist facilities will be given reasonable term for remedy.
Second stage of monitoring (10.04 – 10.05)
at this stage of monitoring tourist facilities which were given reasonable remedy term are checked for their remedies. Besides monitoring food and accommodations facilities are visited by "Mystery Guest" to identify service quality.
National Food Agency and Hygiene Supervision Services of appropriate municipality are participating in project for the purpose of monitoring.
Resuming results and conferring quality marks (15.05-1.06)
Department of Tourism and Resorts of Ajara will submit elaborated monitoring results to Regional Board of Advisors. For the first of June this year first tourist facilities will be in Ajara region which will meet all criteria under the project and will receive quality mark "Recommended by Tourism Department".
The mentioned project aims service quality enhancement, introduction of safety and technical standards at food and accommodation facilities in Ajara region as well as service quality enhancement for guides and conferring special quality mark to them. For the first stage of the project quality mark "Recommended by Tourism Department" will be conferred to city guide, highland Ajara guide and guide in Mtirala National Park – reserved territory.
All interested food and accommodation facilities should fill application forms until 1 March and those interested applicants which decide to participate in the project after 1 March should register at special web-site www.recommend.ge.