News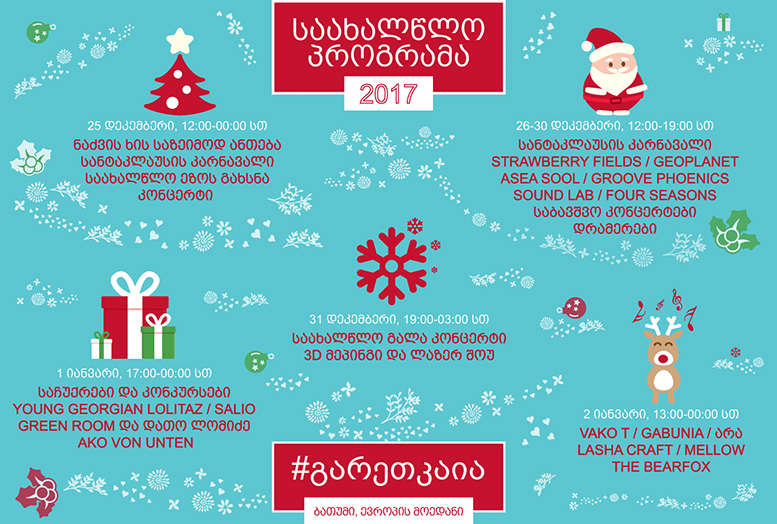 Batumi is welcoming New Year 2017
25 December 2016
Batumi is getting into the New Year spirit. Europe Square will turn into the home for rock, funk, pop, folk and alternative music. Salio, Young Georgian Lolitaz, DJ Ako Von Unten, Mellow, The Bearfox, Asea Sool is the short list of bands and music groups adopted to deliver an incredible presentation of the holiday. New Year concerts on grandly adorned Europe Square will begin on December 25 and last till January 3.
"New Year Village", opening on December 25, will put on its best and brightest New Year flares to Europe Square. The winter wonderland will be staged in the middle of Europe Square as cottages pop up, presented by small cafes and wine companies. Blazing fireplace, glintwine and energetic music will add a welcomed cheer to celebration. Gifts, contests and competitions will be an additional boost for a very festive mood.
Europe Square will turn into the magic place for children too. They will enter an unbelievable world of extraordinary amusement together with Santa Clause and his friends – Elves, fairy tale characters and stills. A prime place to take photo will be the "Santa's Corner" where children can visit Santa himself.
As to December 31, guests of Europe Square will welcome New Year with gala concert of showbiz stars, laser show, grand firework and large-scale 3D projection.
New Year events at Europe Square will be organized by the Department of Tourism of Ajara and Batumi City Hall.
Program
December 25
12:00 – 00:00
Lighting up the New Year tree
Santa Clause carnival
Opening of festival village
Concert
December 26-30
12:00 – 19:00
Santa Clause carnival
Drummers
Concerts for children
Bands from Batumi
Asea Sool
Groove Phoenics
Sound Lab
Four Seasons
Strawberry fields
Geoplanet
December 31
19:00 – 03:00
New Year gala concert
Sopho Khalvashi, Nini Badurashvili, Tako Gachechiladze, Giorgi Sukhitashvili, Maia Jabua, Sopho Gelovani, Niko Beridze, Achiko Gogitidze, Nato Metonidze, Liza Bagrationi, Maka Zambakhidze, ensemble "Batumi", Melomaniak, Batumi jazz big band, DJ.
3D video projection, laser show.
January 1
17:00-00:00
Concert program
DJ Ako Von Unten
Young Georgian Lolitaz
Salio
Green Room and Dato Lomidze
Gifts
Contests
January 2
13:00-00:00
Georgian bands, DJ and foreign headliner
DJ – Vako T
Gabunia
Lasha Craft
Ara
Mellow
The Bearfox
Gifts
Contests