News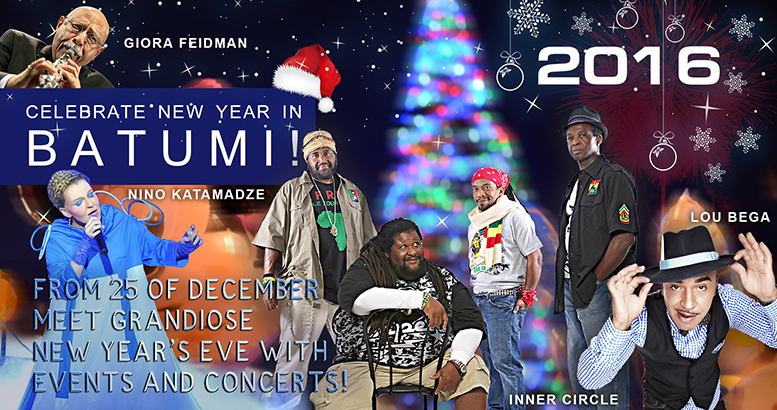 On 25 December New Year Concerts will be opened by Nino Katamadze
24 December 2015
Tomorrow at European Square 15 day's program of free concerts starts At 7:00 in the evening New Year Show will be opened by Grand concert by Nino Katamadze and Goup Insight. Before concert starts main, renewed New Year's Tree will be lightened. Guests attending the concert will listen the most favourite and famous hits of the group. After Nino Katamadze 20:30 Georgian alternative Brand "LOUDSPEAKER" invited from capital city will continue the concert.
Before beginning the basic concert of the day at 18:30 guests at Europe Square will travel in fairyland during half an hour. Theatrical procession and entertaining concert for kids will be organized by the participation of local theatrical troupes.
On December 26-27 local and invited from musical brands and musicians from capital city will be present at the concert of Europe Square. In 26 December at 20:00 Tornike Kipiani and group "Turnover Cause", Lasha Ghlonti and Vazha Tughushi's trio will be present and in 27 again at 20:00 "Gravity", The Mins and / "Young Georgian Lolitaz" will perform 2 hours program for the listeners.
Besides Europe Square New Year's events are planned in 13 adinistratibe units of Batumi. Concerts will culminate in 31 December at 22:00 when Grand Gala Concert will start at Europe Square with the participation of foreign stars in which Giora Feidman (clarinettist, author and performer of Oscar winning film "Schindler's List"). Beside Feidman author of famous hits of Bob Marley winning two grammys Band inner Circle.
Free concerts will be held at Europe Square, 13 administrative units of Batumi during 15 days. Concerts in 25,26, 27 December is organized by The Department of Tourism and Resorts of Ajara A.R and New Year's events from December 28, to January 7 by The Ministry of Education and Culture of Ajara A.R and Batumi municipality N(N)LP "Culture Center".