News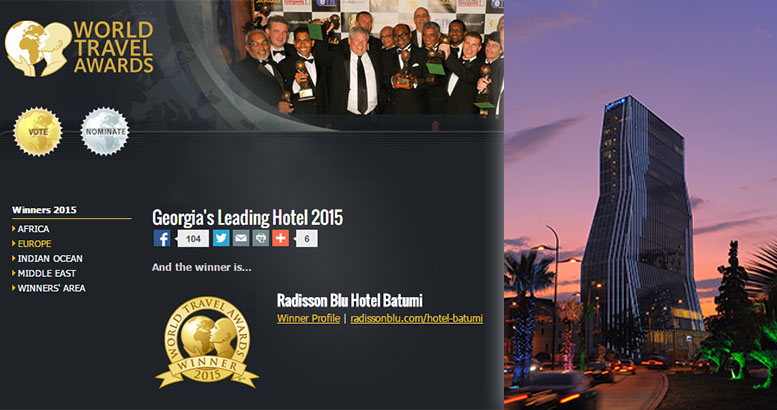 Radisson Blu Hotel, Batumi snatches another Tourism ''Oscar''
6 September 2015
06.09.2015 Batumi - Radisson Blu Hotel, Batumi is named "Georgia's Leading Hotel" by the prestigious international World Tourism Awards

. In the environment of rising competition, this news carries special importance for the hotel, as it becomes the winner for the 3rd year in the row.
"Considering that tourism is one of the fastest growing industries in Georgia, the local market is becoming increasingly competitive. It is with great pride that we receive this award granted by World Travel Awards, since it underscores our team's professionalism and quality experience delivered to our guests," says Pierre E. Fares, Hotel Manager of Radisson Blu Batumi.
Radisson Blu Hotel, Batumi was nominated among the famous and high-class hotels as Le Bristol and Hotel Ritz, France or even Hotel Adlon Kempinski, Germany. The Ceremony was held on September 6, in "Porto Village Resort" Sardinia, Italy.
World Travel Awards was established in 1933 to acknowledge, reward and celebrate excellence across all sectors of the tourism industry. Today, the World Travel Awards brand is recognised globally as the ultimate hallmark of quality. It is the most prestigious awards programme, rewarding leaders in the tourism, airline, hotel and hospitality sectors around the world. The Wall Street Journal is among the many media that have heralded WTA as "The Oscar's of the travel industry".
The Radisson Blu Hotel, Batumi features a beautiful glass exterior and a sleek contemporary design with customer- oriented service. The diversity of 168 rooms of different categories, gives the guests opportunity to enjoy the breath-taking views of the Black Sea, mountains or the city. Savour a delicious meal in one of the hotel's spectacular venues including the 19th-floor bar with views of Batumi. The hotel offers premier services such as exclusive Anne Semonin Spa & Wellness Centre and indoor and outdoor swimming pools. The spa beckons travellers to retreat and unwind, while the expert meeting facilities ensure seamless events in a stylish location.