News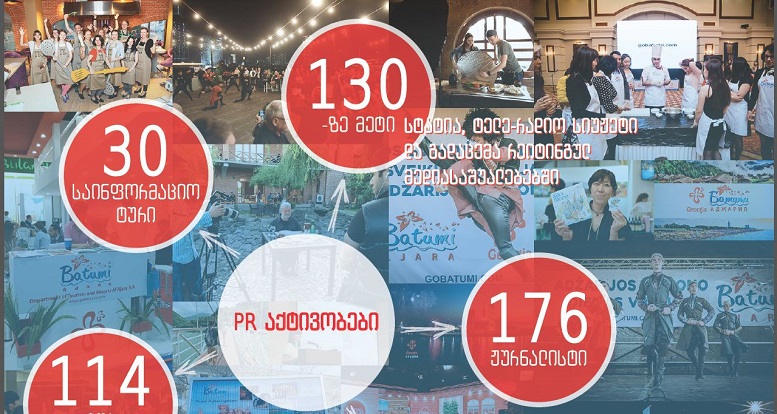 Ajara to be promoted in 17 countries during 2017
8 November 2016
Tourism Department of Ajara is going to promote region in 17 countries during 2017. Ajara as a touristic direction will be promoted in 6 new countries – United Arab Emirates, Latvia, Estonia, Germany and Iran during next year. 5 425 000 GEL will be allocated from the budget for advertising campaign in 2017.
This year Department of Tourism has held PR and marketing campaigns in 11 target countries (Turkey, Armenia, Azerbaijan, Ukraine, Belarus, Lithuania, Poland, Kazakhstan, Israel, Russia and Georgia).
"We are starting diversification of markets for the next year and we are focusing on countries ensuring the positive trend in the growth of tourists in the region during current year. As to the current year it was full PR and marketing campaigns, special TV shows regarding tourism potential of the region, press and info tours, organization of "Ajarian Days" and participation in international tourism exhibitions. It was also distinguished by holding flesh mobs, contests, press lunches, press conferences, promo events, gastronomic tours, culinary master classes and online and outdoor advertisement. Above mentioned PR campaigns will be distributed in 17 countries for the next year" – said the Chairman of the Department of Tourism, Mamuka Berdzenishvili.
Department has organized 22 press and 8 info tours in target countries during current year, within them representatives of 114 travel agencies and 176 journalists got introduced to the tourism potential of the region. As a result of above said more than 130 articles, TV and radio reports and programs have been prepared by popular media means of target countries such as Bloomberg TV, CNN TÜRK, Моя планета, ПЯТНИЦА, The Good Life Channel, Travel Channel Israel, Channel 10, Беларусь 1, ОНТ and ATV.
For diversification of markets Department of Tourism of Ajara has held presentations regarding tourism potential of the region in countries of Persian Gulf. Besides, Department participated in tourism exhibitions of Dubai, China, South Korea and Japan for the first time. Totally, region was represented at 15 international exhibitions.
Successful was also the joint project of the Department of Tourism and Ministry of Education, Culture and Sport of Ajara – "Ajarian Days" in target countries. Residents, journalists, travel agencies and representatives of diplomatic corpses of Lithuania, Israel, Kazakhstan, Belarus and Poland got introduced to what they can visit, taste and see in the region before arriving in Ajara. In total 7 "Ajarian Days" have been organized by Department in target countries.
For prolongation of tourism season and attraction of tourists in Ajara, department has aired an advertising video on famous TV channels. Video was aired on Discovery channel, My planet, Euronews Moscov and Euronews Spb during whole September.
Except traditional events, Department is implementing the online advertising of the region by social media instruments and informational technologies in the target countries since the beginning of year till now.