News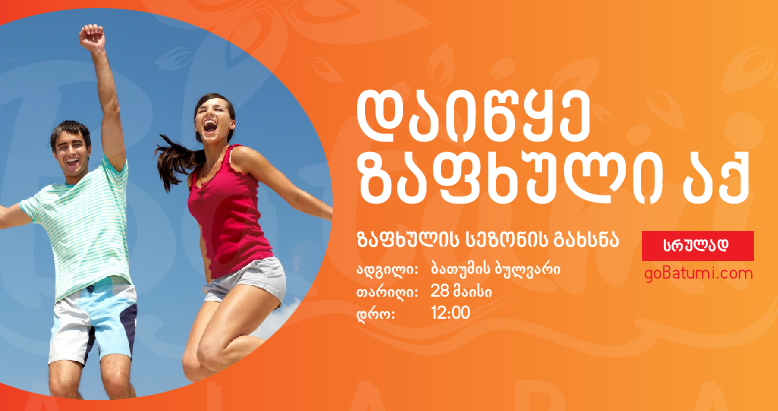 Opening of the summer tourist season
25 May 2016
On May 28 within a single day program Department of Tourism and Resorts will open the summer tourist season with special event in Boulevard. The large-scale concert and entertaining program is planned to be held on the territory of Summer Theater and newly rehabilitated lanes of Boulevard. The event will be opened by water curtain show at 11 a.m. at the central fountains of Boulevard. The anchormen of the event will be actors of "Shua Kalaki" Bacho Kajaia and Nodar Gurgenashvili. Guest will be able to attend the concerts of local bands such as Nemo, Strawberry Fields and Sound Lab in specially decorated boulevard during the day, also enjoy the concerts of walking drummers and participate in different activities, master classes and competitions associated with summer rest. The various program of the event is designed for the people of all taste and age.
Presentation of new tourist tours is also planned within event. The following campaigns will be arranged for Tourism faculty students and tourism field representatives such as Mirveti bike tour, Matchakhela gun way, wine and culinary tour in Vaio, Shuakhevi adventurous tour and campaign on Mtirala. New tourist products will be presented at the tourism informational centers in Boulevard.
All most visited places in Ajara will be free because of the opening of summer season. On May 28 wishers will be able to visit Batumi Botanical Garden, Gonio Castle, Nobel Brothers Batumi Museum, Archeological Museum and other museums located in municipalities. The special discount will be offered for walking by marine transport such as yachts, parachutes and catamaran, also the children entertaining centers will have discounts too (children's entertainment attractions, billiard, tennis). Free fitness, yoga and sports events are planned at the seaside.
Events will start at 11:00 p.m and last till 03:00 a.m.