News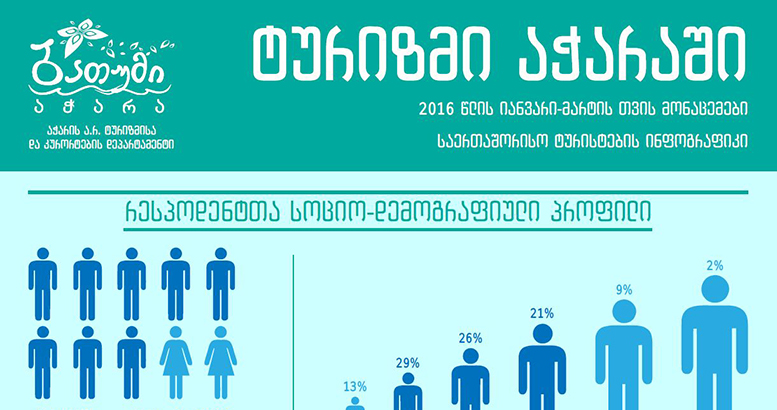 Third phase of foreign visitor survey published
25 August 2016
Department of Tourism of Ajara published results of third phase of foreign visitor survey. According to the survey focusing on the period of March-April 1000 foreign visitors have been surveyed before leaving the country at all customs checkpoits within Georgia.
Survey revealed that Ajara was visited by 42, 7% individual and 35, 2% group travellers during the period of January-March and most of them stayed there during 4 nights. Unlike the previous two phases of the survey concerning the period of August-September and October-December the amount of the expenditure per day is increased and consists of 451.15 GEL.
Unlike the previous two phases of the survey the main problem for the tourists during January-March were bad weather (1.36 %) and concerning patrol police (1.13 %) but there are also figured out poor infrastructure, high prices, high costs of food in restaurants, service quality and foreign language problem. Traffic rules and infrastructure were underlined as the main problems. At the third phase of survey like the previous two most of tourists (51,7 %) is satisfied again by having a rest in the region and 95 % of tourists have a wish to visit Ajara again.
"Our foreign visitor survey is analyzed in accordance with 10 target countries. Results, on the one hand, give us opportunity to take into account which tourism products and potential to be positioned while planning PR and marketing campaigns according countries and how. Besides what kinds of problems are tourists facing while being in the region and how can they be eliminated. We continue foreign visitor survey and full data of 2016 will be published as soon the survey is over" – says the Head of the Tourism of Ajara, Mamuka Berdzenishvili.
Results of all three phases of foreign visitor survey are available at the official web-page of the Department of Tourism.