TOP FACTS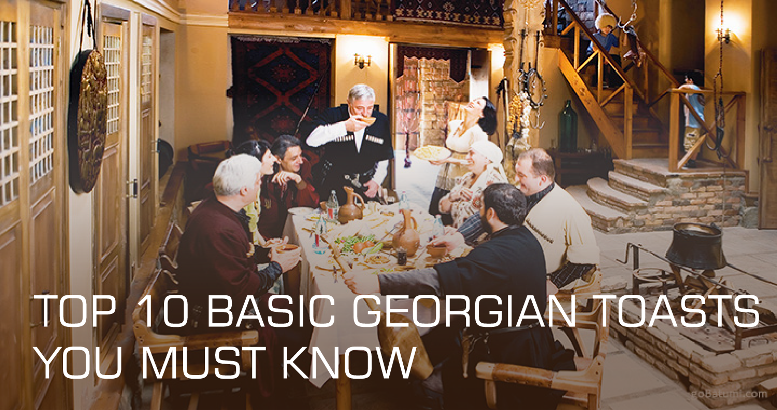 TOP 10 BASIC GEORGIAN TOASTS YOU MUST KNOW
27 March 2015
Wine is an inseparable part of the traditional Georgian table. Apart from ancient traditions of winemaking, the culture of wine drinking has a no less interesting tradition in Georgia. Georgian wine is an organic irreplaceable addition to Georgian cuisine.

The essential ingredients of Georgian dishes are: walnuts, pomegranates, vegetables, meat, fish and spices. Delicious Georgian dishes combine splendidly with Georgian wine. Traditional table feasts in Georgia are called "supras" and they are an important part of Georgian culture.


>> LEARN MORE ABOUT 10 MOST DELICIOUS AJARIAN FOODS <<

-
HERE IS THE LIST OF TEN BASIC GEORGIAN TOASTS YOU MUST KNOW:


1. TO THE GOD AND PEACE
2. TO GEORGIA
3. TO THOSE WHO HAVE PASSED AWAY
4. TO THE CHILDREN AND LIFE
5. TO SOMEONE CELEBRATING A SPECIAL OCCASION
6. TO PARENTS
7. TO WOMEN
8. TO FRIENDS
9. TO LOVE
10. TO THE HOST FAMILY

In fact there are about 150 "basic" toasts in Georgia. The most important Georgian word to know is GAUMARJOS - The toast is to.
Georgian feasts are always led by a TAMADA who leads the toasts. The tamada is chosen by the gathered group or the host. A successful tamada should possess good rhetorical skills and at the same time be able to drink a great deal of alcohol.

Sometimes wine is drunk in clay vessels or horns called "kantsi". Traditionally, wine is poured from special clay carafes. Feasts are often accompanied with Georgian national songs and dances.
To get a better idea about Georgian feasting you can visit the following link: 360o Georgian Feasting Virtual Tour

.
-
Do you have anything to say? Share it with us on Facebook: Visit Batumi

.