TOP FACTS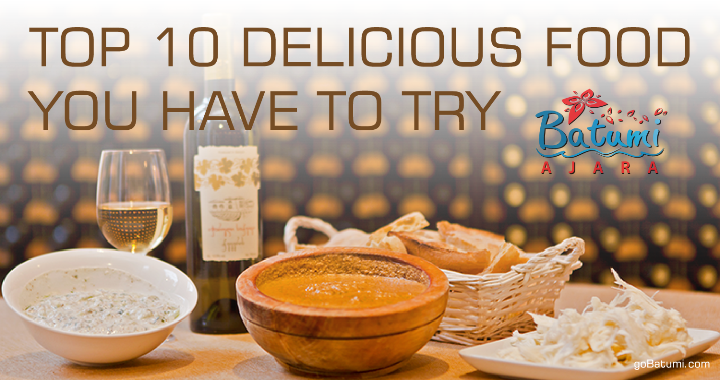 TOP 10 DELICIOUS FOOD YOU HAVE TO TRY IN AJARA
27 March 2015
Georgian cuisine is known for its colorful diversity, use of different techniques and traditional table layouts. There is no similar term or concept in the world for a Georgian Supra, a feast of epic proportions and diverse dishes led by a toastmaster or Tamada.
Tamada, besides leading toasts to a variety of subjects, should also guide the evening and entertain the guests with song, poetry, and storytelling. Toasting tradition is prevalent throughout the Caucasian countries; however, the tamada is a uniquely Georgian phenomenon.


>> LEARN MORE ABOUT TOP 10 BASIC GEORGIAN TOASTS <<

Traditional Georgian dishes such as Satsivi, Mtsvadi, Khachapuri, Mchadi, Khinkali, Chkmeruli, Pkhali with walnut, bean, etc. dominate in Ajarian cuisine as well. Apart from traditional Georgian dishes Ajara is also famous for its local cuisine.
Resulting from the specific lifestyle in the highlands of Ajara, milk products represent the main component in their nutrition ration. Winter offers his conditions to the highland population - there arises the necessity to preserve the products for a long time.
There are a lot of dishes with vegetables, meats and fish as well. Also, sweets play an important role in Ajarian cuisine.
-
AND HERE ARE THE TOP 10 LOCAL FOOD YOU HAVE DEFINITELY TO TRY IN AJARA:
10. AJARIAN CHEESE
There are several cheese produced in Ajara; the most typical Adjarian cheese is "spinning" (datsnuli) cheese, which is primarily made in Ajara's mountainous areas. Producing spinning cheese requires a special technique and apparatus; its nontraditional shape and unique taste make "spinning" cheese attractive to all cheese lovers.

9. KAIMAGI
Kaimagi is a common and very popular dish throughout Ajara. Kaimagi is an exceptionally rich dairy product. This dish pairs incredibly well with cheese and a traditional Georgian corn bread called Mchadi. Kaimagi is a truly unforgettable dish.

8. BORANO
Borano is a very filling Ajarian dish; it is very rich and laden with calories. Its main ingredients are batter and eggs. There are several recipes for making borano, the most popular of which is prepared with eggs, cheese and corn flour. Regardless of the recipe, all types of borano have one thing in common-their excellent taste.

7. MALAKHTO
Malakhto is a typical Ajarian-style bean dish. It is prepared using fresh beans, which are then boiled and combined with different nuts and spices. It is then served with a special sauce called Isrimi, which is made green grape juice. The Isrimi sauce gives the dish a unique and aromatic taste.

6. IAKHNI
There are several people in Ajara who love iakhni, but the most popular fans of Iakhni comes from Kobuleti. Iakhni is made with ground meat combined with a large amount of spices, which give the dish its rich and full flavor. Iakhni is an essential part of any Kobuletian supra, but only experienced chefs can prepare authentic iakhni.

5. ACHMA
Achma is one of the famous interpretations of khachapuri, which uses a technique different from most other types of khachapuri. Thin layers of melted cheese combined with butter give the dish a very rich but light flavor. Achma is truly representative of Ajarian cuisine and is a true pleasure for all food connoisseurs.

4. SAND COFFEE WITH AJARIAN BAKLAVA
Sand coffee is part of Batumi's unforgettable and picturesque image. In order to prepare sand coffee, it is essential to maintain a certain temperature during the boiling process. It is the perfect seaside dessert. Many people believe that Batumi's sand coffee has its own unique fragrance.
Among Ajarian desserts, baklava is one of the difficult desserts to prepare. Proper Ajarian baklava is made from over sixty thin layers of dough, with each layer being covered in a thin layer of walnuts and sweet syrup. Preparing baklava takes an immense amount of time and requires extensive experience to make properly.

Keda district, 43 kilometers far from Batumi, is considered to be the historical center of winemaking in Ajara.The most popular types of wine are Tsolikauri (White wine) and Chkhaveri (Rose wine).

2. SINORI
Sinori is a very rich Ajarian dish. It is prepared using a specially-baked dough that is combined with Georgian cottage cheese and butter.

1. AJARIAN KHACHAPURI
Ajarian khachapuri has a unique shape and amazing taste. While other varieties of khachapuri can be paired with breakfast, lunch, or dinner, Ajarian khachapuri should be eaten alone for either breakfast or dinner. There are several versions of Ajarian khachapuri. The Laz, a people who lived near the seacoast, contributed to Ajarian kchacapuri by giving the dish its signature boat-like shape. Additionally, the Laz also added an egg in the middle of the dish, which is symbolic of the sun. Ajarian khachapuri is not only delicious, it is also beautiful and symbolic of both the sun and the sea.

-
Do you have anything to say? Share it with us on Facebook: Visit Batumi

.