Georgian cuisine is known for its colorful diversity, use of different techniques and traditional table layouts. There is no similar term or concept in the world for a Georgian Supra, a feast of epic proportions and diverse dishes led by a toastmaster or Tamada, who should guide the evening and entertain the guests with song, poetry, and storytelling. Toasting tradition is prevalent throughout the Caucasian countries, however, the Tamada is a uniquely Georgian phenomenon.
Resulting from the specific lifestyle in the highlands of Adjara, milk products represent the main component in their nutrition ration, meanwhile the basis of Adjarian cuisine consists of greens, vegetables, fish and meat, and large amount of various spices as well. For those, who follow a vegan or vegetarian lifestyle, the region of Adjara,with plenty of options, is place to discover. Typical meal will often be dominated by seasonal vegetable dishes that are packed with flavor.
Of course, beyond its famous dishes and beautiful scenery, Adjara is interesting for wine tourism opportunities as well. This hospitable part of Georgia is visited by many for wine tasting. In 2017, in Bordeaux (France) leading specialists from seven countries presented a research which proved that the cradle of wine is Georgia. Here, wine-making and viticulture have the 8000-year history. UNESCO declared Georgian tradition of wine distillation in Qvevri (a special clay vessel) as a monument of intangible cultural heritage.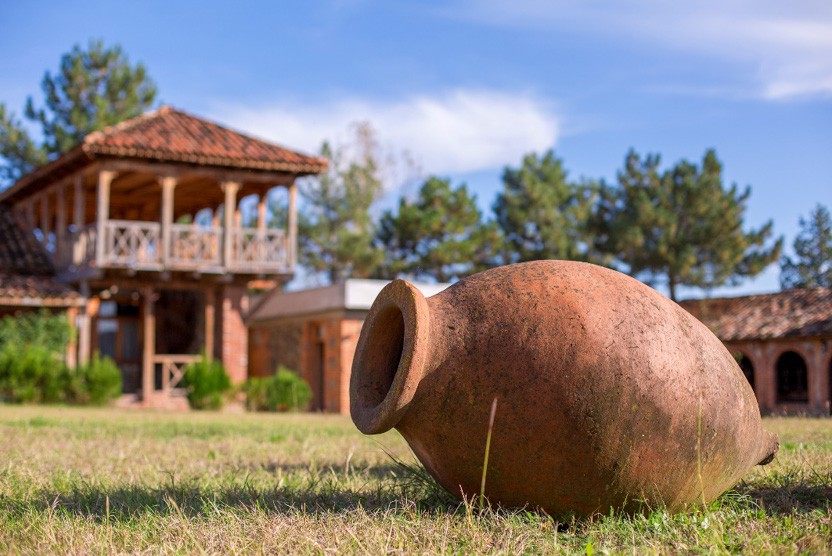 Adjara takes the worthy place in establishment of ancient traditions of winemaking. In this small area (2.9 thousand km2) grow more than 40 varieties of grapes.
Adjara has one of the longest lasting traditions of winemaking in western Georgia. The upper bound of a vineyard extends at the height of 1.200 m above sea level. The craft is particularly well developed in Qeda municipality which boasts with its unique types of wine such as 'Qeda Tsolikauri', and 'Chkhaveri'. These wine sorts are made so that you could drink special toasts with them.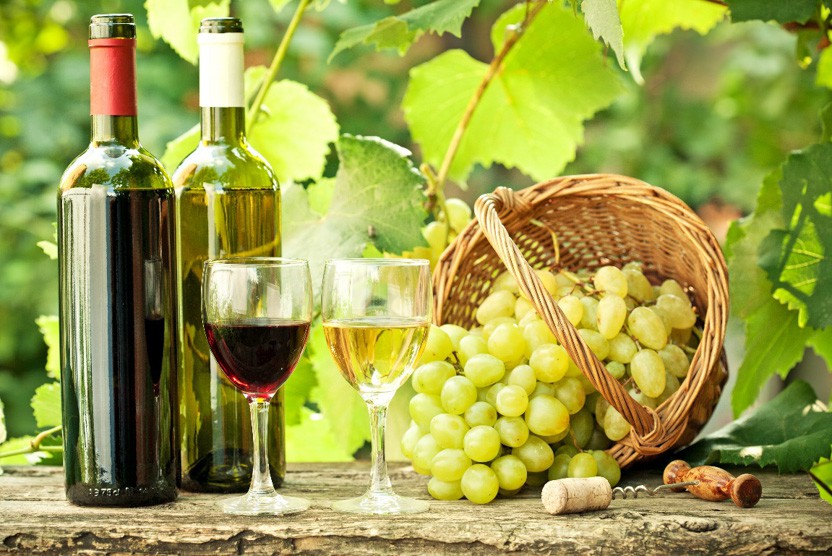 'Chkhaveri' is a well-known Adjarian wine. Chkhaveri has always been considered a special one among other grapevines. It is one of the most sophisticated and harmonious, pink Georgian wine which stands out with its balance in alcohol and acidity.
'Tsolikauri' is a white semi-sweet wine. Its grapes are harvested late in the season and look as if they have soaked whole year-worth solar energy. 'Tsolikauri' provides multiple flavour variations depending on which wonders of Adjarian cuisine you are going to pair it with.
By all means, try Adjarian wines. It's not only their incredible tastes that remind you of the sea, mountains and the sun but their flexibility in relation to temperature as well. On a hot summer day, they chill your body and in winter they drench your body with the energy of the sun.
To tell about all the dishes of the region, we'd have to write a whole book. That's why we chose only the most colorful and popular ones.
Adjaruli khachapuri
Acquaintance with the traditional cuisine should begin with Adjaruli khachapuri that is the culinary pride and landmark of Batumi. Adjaruli Khachapuri is special because of its ingredients, mythology, cooking and eating rules. The famous 'Adjaruli' Khachapuri (cheese pie) is a boat-shaped bread with milk-drenched cheese, egg yolk and butter in the middle. The right way to eat is to break off pieces of dough from the edges and dunk them in the cheese and egg core.
Various legends tell about khachapuri. They say it is in the form of a boat, because it was a favorite dish of sailors who arrived from the voyage. The second story tells that an egg represents the sun that has rolled into the sea. Whatever the origin of khachapuri, its taste is incredible! Restaurants and hospitality consultants agency "af&co" put at the 2019 trends reports Adjaruli khachapuri as the dish of the year.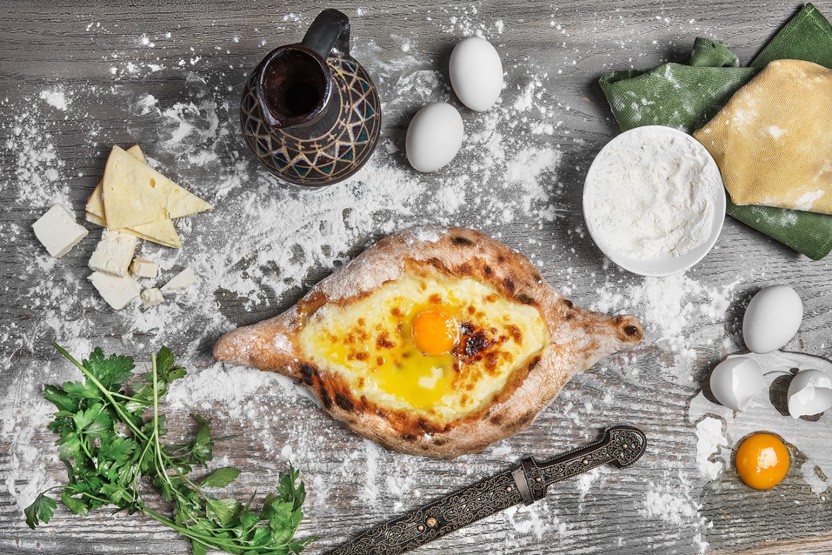 Pkhal lobio
The old vegetarian dish is exceptionally cooked in the highland Adjara, in Khulo and Keda villages. Pkhal lobio consists of beans, lahan leaves, walnuts, greens, various spices, and garlic. Pkhal lobio is always served with Mchadi, with flat cakes made of corn flour to replace bread. It is necessary to eat this dish, like other Adjarian meal, with your hands. Tear off a piece of Mchadi, dunk in a plate and eat!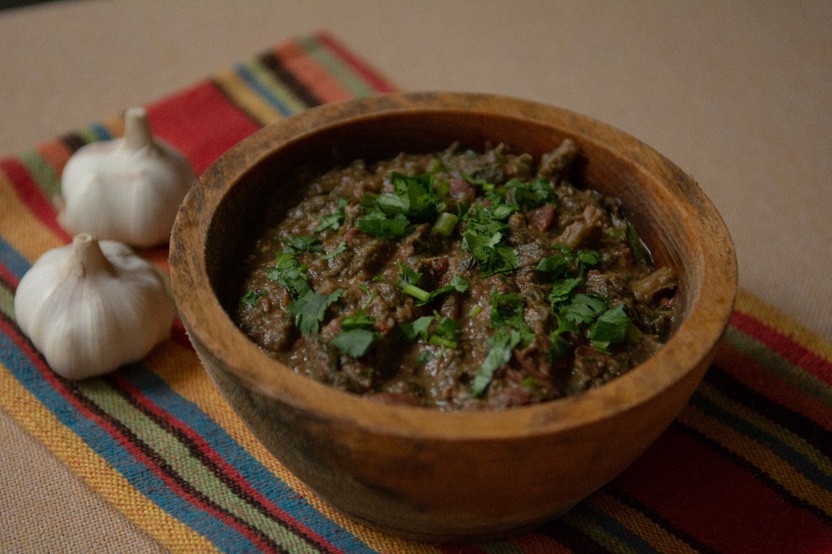 Chirbuli is homemade eggs cooked in tomato sauce with walnuts, garlic, greens, and traditional Georgian spices. Chirbuli is the perfect dish for breakfast. Clay pans called Ketsi are used to cook this dish, as they keep heat for a very long time. Chirbuli is also served directly in the Ketsi, where it was cooked. Some cooks use ordinary frying pans to make Chirbuli, but a dish cooked on Ketsi is more delicious. The sauce remains hot until the last drop that you pick up with a piece of bread, almost licking your fingers.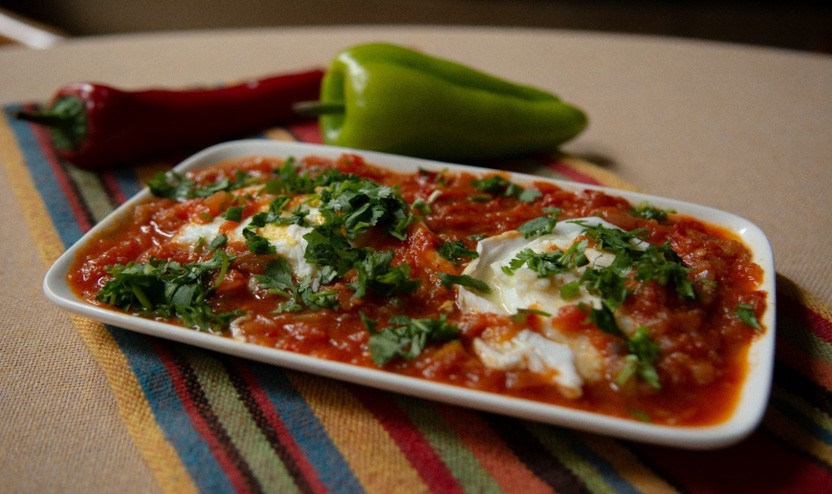 Malakhto is a treat of young green beans, chopped nuts, spices and young grape juice that serves as a seasoning and gives the incredible flavor. Therefore, do not forget to add Malakhto to your must-taste list while in Adjara.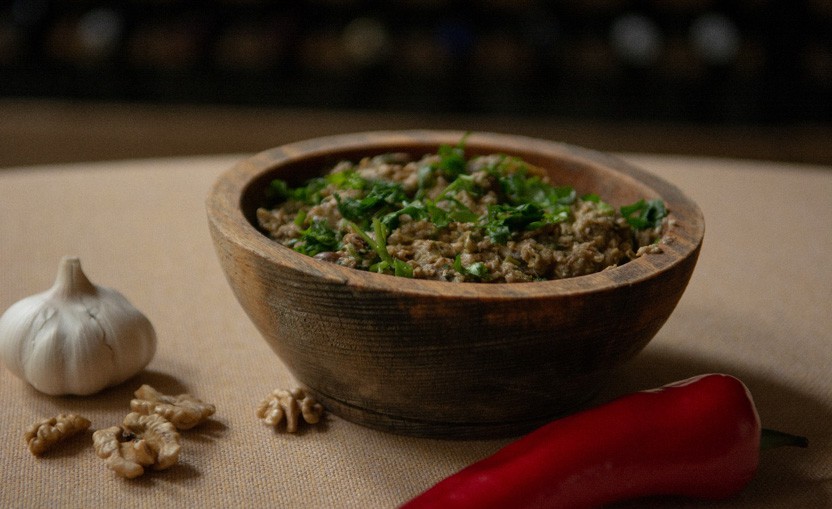 Borano
The main ingredients of Borano are braided Adjarian cheese and butter. The cheese is cooked in a pot with a melted butter. This dish is well combined with Georgian bread Shoti or Mchadi (flat cake of corn), a light salad of cucumbers and tomatoes. This meal is perfectly complemented by white wine.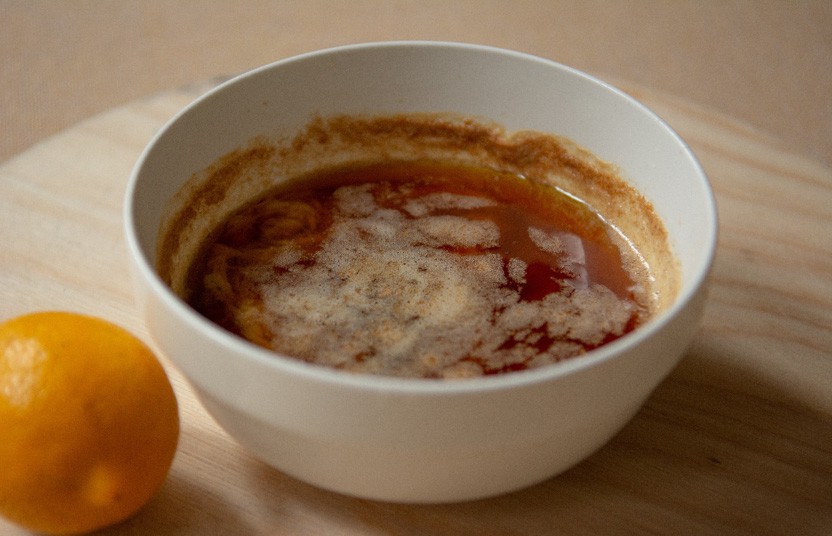 Iakhni
You can meet lovers of Iakhni all around Adjara, but this dish is most popular in Kobuleti. With its taste and use of ingredients, it is similar to other dishes characteristic to the western Georgian cuisine. Iakhni is made with meat combined with a large amount of spices, which give the dish its rich and full flavor. Iakhni is an essential part of any Kobuletian supra, but only experienced chefs can prepare authentic Iakhni.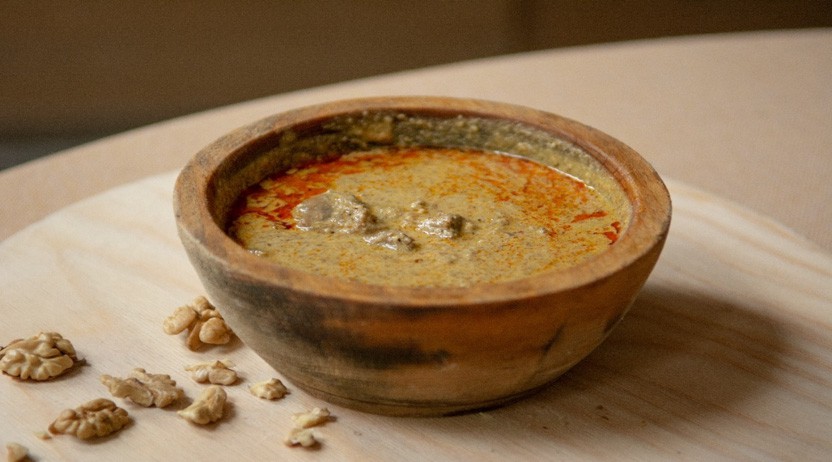 Baklava
The real Adjarian baklava needs only thin filo dough, walnuts and sugar or honey. However, it is a laborious process to cook the sweet. Patience, neatness, sense of proportion and dexterous hands are required for first-class baklava. This work pays off the pleasure of the taste of a crispy treat with unsweetened coffee.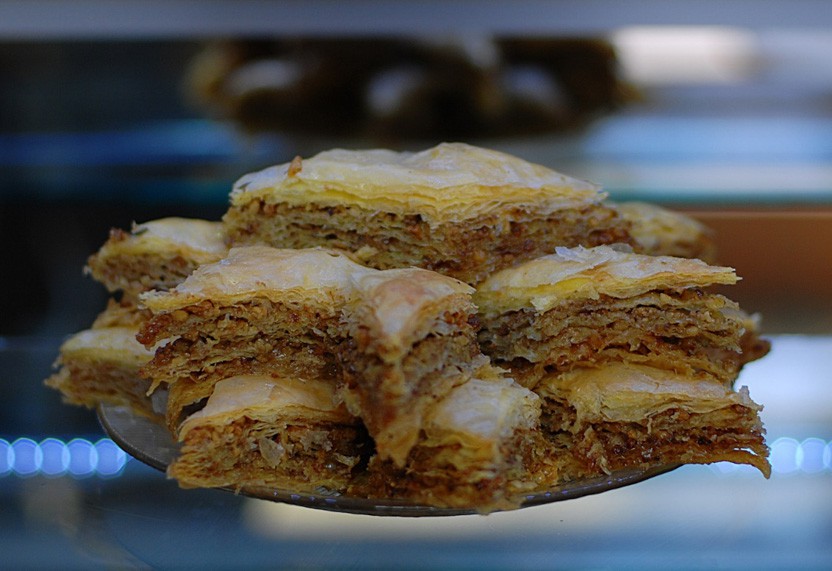 Pkhali
The region of Adjara is famous with plenty of vegetarian and vegan options. Amongst Adjarian vegetarian dishes stand out salads made of a type of Pkhali herb, garlic, tomato or pickled walnuts. Roasted eggplant with garlic and yogurt sauce is a tasty option as well.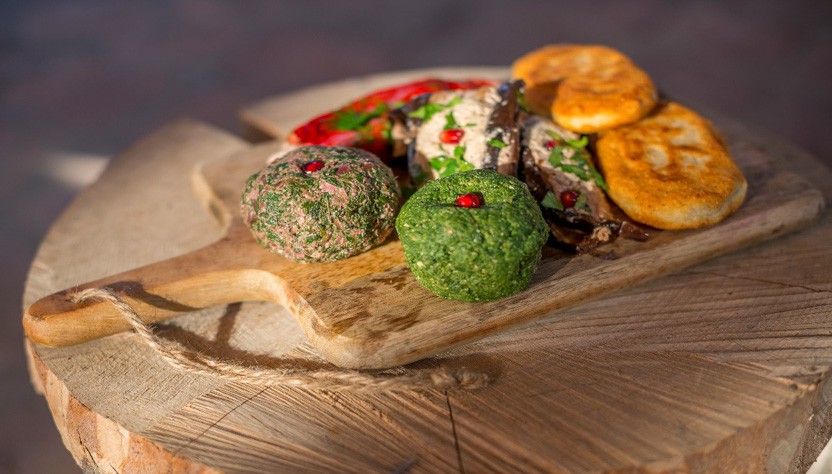 It was a short list of rich Adjarian cuisine. The local food is absolutely healthy, environmentally fresh and very tasty. Dairy products are naturally cultivated by the villagers. Maybe this is the secret of the long life of the Adjarian people.
Visit Adjara and find out the undiscovered tastes of Adjarian dishes!
Here's to creating your new everlasting memories, cheers!