Mirveti is just about 27 kilometers from Batumi. It is a beautiful, cozy village full of fresh, mountain and sea air, surrounded by willow forests and Chorokhi river, where you can enjoy spending your leisure time by yourself or with friends.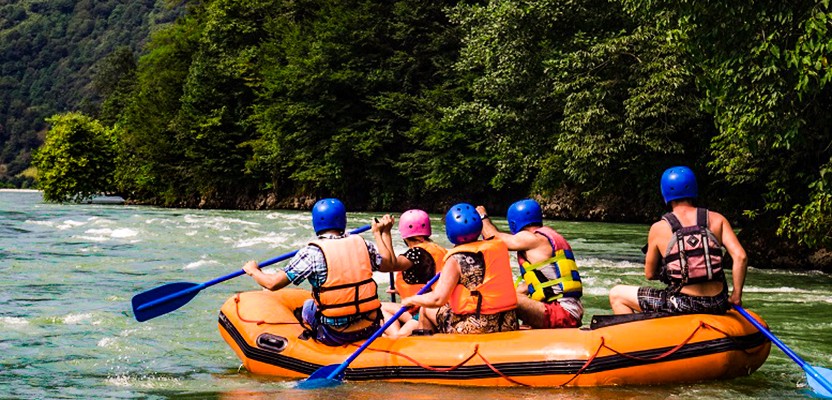 You can plan a bike route from Batumi to Mirveti, but you will need a mountain bicycle. Cycling routes start from Batumi Tourist Centers. One of them is situated near Batumi Cable Car and another by the central entrance of Batumi Boulevard. Here you can take a route map for your tour. The cycle route is fully marked and you can start your trip right from the boulevard or take your bike to Mirveti bridge by bus or car and ride along a country-track.
At the beginning of the road you will find very old wooden barns for corn. You will certainly wish to stop near the banks of Chorokhi and enjoy the landscape views and the sounds of meandering river, however these are just very few of those things that you can find in Mirveti.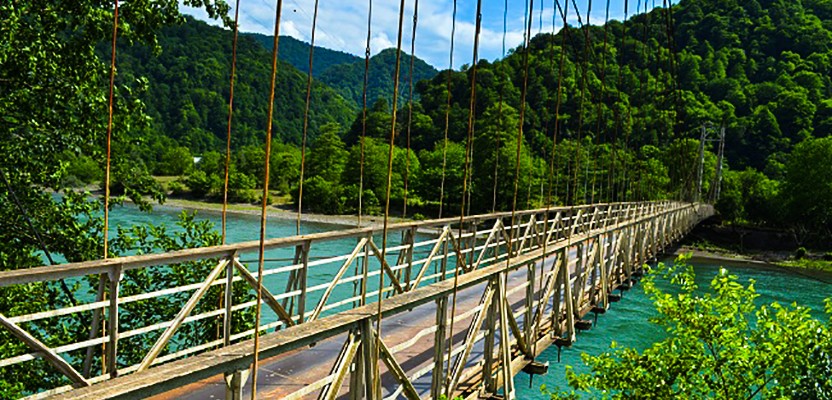 The village road is paved in some places, but mainly there is a dirt road. To cycle around the whole Mirveti is absolutely possible. The village is not large. It takes about 2-3 hours to see everything, but it is impossible just to walk around and leave. You have to stop at each place, have some rest and fill your mind with positive thoughts. Here you start breathing free and only the sounds of nature are all around you.
As you take the main road, you will soon find a signboard, showing the direction to the nearby waterfall. It is 20 meters high. The place is always full of tourists and volunteers can even take a dip in the still, purest water.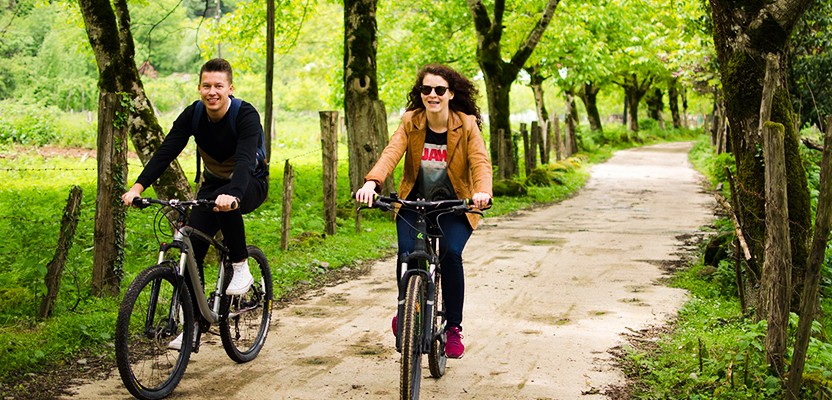 Colchian Willow path covered with light green moss takes you to the waterfall. This willow is listed in the Red Book and needs special care as it belongs to the endangered plant species.
On the opposite side of the waterfall, with the help of signboards you will find the XIII century stone arch bridge. There are many similar bridges in Ajara and they are generally called Tamari bridges.
There is a picnic spot nearby, where you can grill meat over a brazier, lay the table, get on the swings, park your bicycle at the parking space and get spring water for the rest of your tour.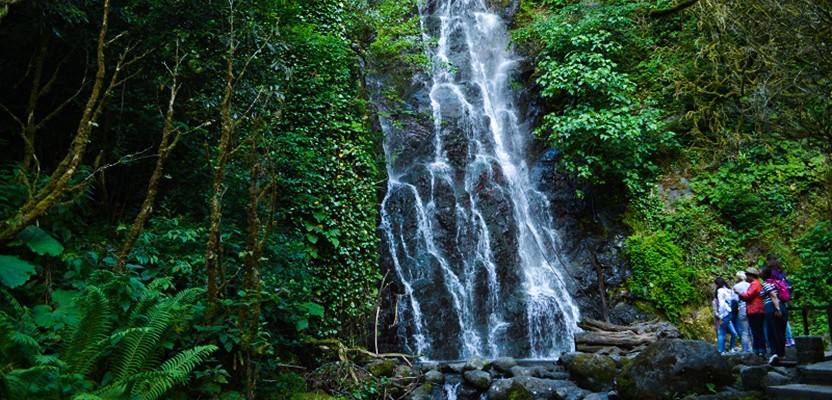 Cozy village near woodland
The population of Mirveti comprises 25-30 people, that is 16 families. 13 of them stay in the village all year long. If you are a fishing lover, you can catch delicious fish in the river and cook it right here over a campfire. As for extreme lovers, they can take rafting tours on the Chorokhi or Ajaristskhali rivers. If you decide to stay in the village, you will easily find a place for a lodging. Almost every family is ready to have guests. In summers they arrange everything for the guesthouses.
Walking or cycling, you will not be disturbed by anyone or anything. All the way along the Chorokhi, you can only hear rushing water and on the country roads you listen to the birds' singing.
Delicious supper at the end of the nice rest
If you don't feel like taking meat or other products with you, be sure, you won't go hungry in Mirveti. Moreover, a delicious supper or dinner costs really not much. 15 lari per person is enough to have a wonderful supper with the compote made of fresh fruit. Besides other dishes, they have Khachapuri, grilled fish and meat. If you prefer alcoholic drinks, perhaps red wine, the price will appropriately change. You can order your meal at Acharistskhali restaurant, which is a kilometer away from Mirveti, close to the church of the Virgin Mary.
If you want to have a snack: tea, coffee, cold drinks or sandwiches, you can drop by "Zurabis Kokhi", a bar with a nicely arranged terrace. Here you can also buy local honey, strawberry and wild strawberry jam.
Mirveti is an interesting destination for any tourists, be it the extreme lovers, people looking for a peaceful leisure or those who don't have much time to travel but need some rest.